Sea King squadron home from Helmand
After more than 15 months in Afghanistan, 854 Naval Air Squadron has returned home to Royal Naval Air Station Culdrose in Cornwall.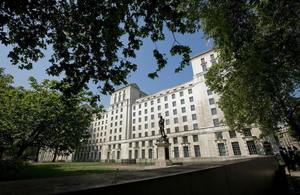 854 Naval Air Squadron (NAS) and its Sea King Airborne Surveillance and Control helicopters (SKASaCs) have been based at Camp Bastion in Helmand province as part of the larger International Security Assistance Force (ISAF). They have provided a key part of the surveillance effort in support of ISAF in Afghanistan.
Conducting hundreds of missions, the men and women of 854 NAS have proven their worth time and again. Many miles from the sea, and what might be considered their 'normal' operating areas, the SKASaCs are highly reactive helicopters, able to assist ISAF troops at very short notice.
The SKASaC is fitted with a powerful and sophisticated radar that provides valuable battlefield reconaissance and targeting information for land operations around southern Afghanistan.
Developed to protect a fleet of ships at sea, they are known as 'the eyes of the fleet'. But with the front line SKASaC Force (854 and 857 Naval Air Squadrons) having first entered Afghanistan in May 2009, they can also now claim to be 'the eyes of the desert'.
Enjoying extraordinary successes, 854 NAS last summer alone made numerous 'finds' totalling over seven tonnes of explosives which would have otherwise been used to make IEDs, and thousands of kilograms of drugs bound for streets around the globe.
Having split the squadron's personnel into two halves, 854 NAS deployed in late November 2010. To sustain continuous operations, all members of the team have spent upwards of eight months away in this period, undertaking three-to-four-month tours followed by a similar period back in the UK before returning to the fight.
Many have done still more time away: 857 NAS had planned to replace them at the end of 2011 but were necessarily delayed as they were deployed aboard HMS Ocean for Operation ELLAMY (the UK's codename for the Libya campaign), so 854 had to remain in Afghanistan until finally relieved last week.
Commander Pat Douglas, Commander Sea King Force, said:
Having handed over to 857 NAS, 854 Naval Air Squadron return home after 15 months of hard work in Afghanistan. They can be truly proud of what they have achieved; from the 2,500-odd hours flown in theatre and the numerous hauls of drugs, weapons and explosives, to the extraordinary serviceability of their aircraft, they have surpassed expectations at every turn.
We need your help! We are trying out designs for a new single website for all of government and we'd love your feedback. Please visit the 'Government beta site' by clicking on the link under Related Links.
Published 5 March 2012