Sea King returns to duties after 18-month reconstruction
After 18 months of reconstruction Sea King helicopter ZA298, from the Commando Helicopter Force, that was hit by a rocket-propelled grenade (RPG) in Afghanistan, has returned to front line duties with 846 Naval Air Squadron.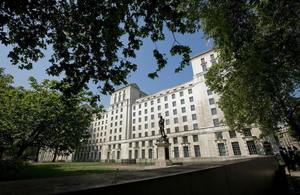 The story of the aircraft's survival started in 2009 when it was hit and severely damaged by an RPG whilst landing at a checkpoint in the Nad 'Ali area of Helmand province.
The rocket blasted its way through the aircraft, narrowly missing the pilot and commander but slightly injuring the door gunner.
Chief Petty Officer (CPO) Neil Copeland, who was the Senior Aircraft Maintainer in Afghanistan at the time of the RPG attack, was at Royal Naval Air Station Yeovilton to welcome the aircraft back to 846 Naval Air Squadron.
CPO Copeland led the recovery team that extracted the aircraft back to Camp Bastion and prepared the aircraft for its return to the UK.
Reflecting on the recovery he said:
Because the aircraft was to be airlifted from the checkpoint, the mission was extremely challenging as we had to remove a considerable amount of hazardous equipment and fuel from the aircraft to ensure everyone's safety and to reduce its overall weight.
We receive military training in theatre for this type of eventuality, but working on the rotor head, which was about 10 feet [3m] above the ground and four feet [1.2m] above the compound wall, certainly concentrated the mind as we were in full view of the terrorists who were responsible for bringing the aircraft down.
However, the Army did an excellent job in providing cover and ensured we were able to get on with the task in hand.
Looking at the aircraft now you would never know it has suffered such catastrophic damage. Vector Aerospace has done an excellent job," he added.
This is not the first time ZA298 has survived enemy fire. During the Falklands conflict one of the aircraft's rotor blades was hit by 30mm canon shells from an Argentine Skyhawk aircraft, but within two hours its maintainers had the aircraft flying on another mission.
Two days later the veritable war horse was used to ferry General Menendez, the commander of the occupying Argentine troops, to HMS Fearless where initial surrender negotiations were being held. The aircraft also suffered damage from small arms fire when operating in Bosnia.
Published 11 January 2012