Scrapping family visitor appeal rights will save millions
Foreign nationals refused visa for a short visit to see family members in UK will lose the full right to appeal the decision in the courts.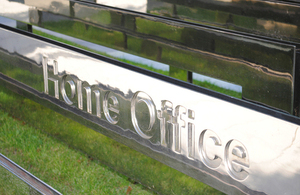 Foreign nationals refused a visa for a short visit to see family members in the UK will lose the full right to appeal the decision in the courts, saving tens of millions of pounds and freeing up tribunals to deal with more serious cases.
Immigration Minister Damian Green has announced that in future the vast majority of failed applicants will have to re-apply, rather than launching a lengthy, taxpayer-subsidised appeal.
Mr Green said: 'We are not stopping anybody visiting family in the UK; if an applicant meets the rules they will be granted a visa.
'However, it is grossly unfair that UK taxpayers have had to foot the huge bill for foreign nationals who, in many cases, have simply failed to provide the correct evidence to support their application.
'These changes will save tens of millions of pounds and free up immigration tribunals to carry out the much more important work they were intended for.'
The number of appeals has soared since 2000, when full appeal rights were re-introduced for family visit visas. It was expected that there would be a maximum of 20,000 appeals per year but by 2010-11, the number had risen to almost 50,000.
The cost of processing these appeals is estimated at £29 million per year. They now account for almost 40 per cent of all immigration appeals, burdening the system and diverting resources which could otherwise be used to settle asylum claims and foreign criminals' deportation cases.
Faster decision time
We are also removing the full appeal right because it is out-of-step with every other category of visit visa, such as the business or tourist visa, none of which attract a full right of appeal.
Also, in many cases new evidence is provided at the appeal which should have been submitted with the original application. Applicants wishing to provide additional information should re-apply, not use the tribunal as a second application.
A decision on a fresh application will be received much more quickly than an appeal, typically within 15 days, in comparison with the appeal route which can take up to 8 months.
Refused applicants will still be able to appeal on limited grounds of human rights or race discrimination.
Crime and Courts Bill
The change is included in the Crime and Courts Bill. Subject to Parliamentary approval and Royal Assent, it is expected to come into force by 2014.
In the meantime, interim measures will ensure that the full right of appeal will be limited to those applying to visit a close family member.
Secondary legislation is expected to be laid before Parliament next month (June) which, subject to Parliamentary approval, will mean that from July those applying to visit a cousin, uncle, aunt, niece or nephew will no longer have a full right of appeal.
Published 12 May 2012