Press release
Scottish people encouraged to apply for public appointments
The UK government is encouraging people from Scotland to sit on the boards of UK public bodies, as part of a wider government drive to make public boards more diverse.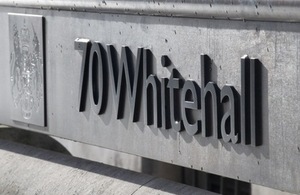 The Cabinet Office partnered with Changing the Chemistry, a Scottish peer to peer support network focused on improving board diversity, to promote UK Government public appointments opportunities at the Scottish National Gallery in Edinburgh last week (7 March 2018).
Attendees at the event included Edinburgh University, the Institute of Directors, Women on Boards and CEMVO Scotland - a strategic partner of the Scottish Government Equality Unit.
Guests heard from speakers from a wide range of UK public bodies, such as Lesley Sawers (Equality and Human Rights Commission), Muriel Gray (British Museum) and Susan Rice (Bank of England). They spoke about the benefits of being a public appointee which include:
Using your expertise to help society and influence decisions that affect everyone's lives
Meeting people from all walks of life who also want to make a difference
Developing your career, gaining board experience and boosting your skills
The government launched the Diversity Action Plan for Public Appointments in December 2017, which included a commitment that by 2022, half of all public appointees should be female and 14% should be from ethnic minorities.
Minister for Implementation, Oliver Dowden said:
We need to attract the brightest and the best from across the UK to serve on our public boards and to see them truly reflect British society.

A range of people from across the country bring new perspectives, different backgrounds, and diversity of thought, which strengthens decision-making and improves outcomes.

Serving on a public board is both exciting and rewarding - I encourage everybody to consider taking up a role.
Chair of Waverley Care, Scotland's HIV and Hepatitis C Charity, Ian Arnot said:
It's great to see the Cabinet Office, working with Changing The Chemistry, seeking out diverse groups of people to take up public appointments – especially in Scotland. The networking event helped to demystify the application process and the inspiring speakers encouraged me to consider applying for a non-executive role in the future.

It's great to see so much support available to ensure our public appointment system has representation from across our communities.
Published 12 March 2018