News story
Scotland Office to help Glasgow School of Art fundraising appeal
The Scotland Office has offered to host a fundraising event for The Glasgow School of Art at its London HQ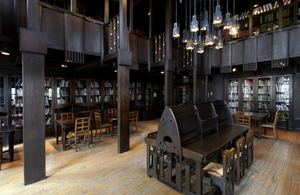 Fine art students from The Glasgow School of Art (GSA) may have the chance to showcase their work at the department's two offices in Whitehall and Edinburgh.
Speaking after a visit to the The Glasgow School of Art to see how restoration work on the Mackintosh building is progressing, Scotland Office Minister Andrew Dunlop said the department wanted to do what it could to help raise funds to help the GSA recover from the fire in May 2014.
The UK government has already given £5 million to the Mackintosh Appeal, which includes Brad Pitt and GSA alumnus, Dr Who star Peter Capaldi, amongst its Trustees.
Lord Dunlop also extended an invitation to fine art students from the GSA (The Glasgow School of Art) to display works at Dover House in London and Melville Crescent in Edinburgh.
He said:
I was delighted to be able to offer Dover House as a venue for a fund-raising event for The Glasgow School of Art.

The Scotland Office – and the wider UK Government – are determined to do everything we can to support the rebuilding of one of Scotland and the UK's great institutions, which has produced so many leading architects, designers and artists over the years.

The Glasgow School of Art has produced winners of many leading awards including the prestigious Turner Prize and International Dyson Award, with its alumni among the most respected in their fields.

But we are also extremely keen to help encourage the next generation of talent, which is why I want to be able to showcase some of the work by current fine art students at our offices in Dover House and Melville Cresecent.

We have fantastic spaces in both of these venues and we can use our facilities to bring their work to a wider audience.
Director of The Glasgow School of Art, Professor Tom Inns said:
The Glasgow School of Art is grateful for the offer to host an event at Dover House and for the ongoing support from the UK government as we recover from the impact of the fire.

We would also like to thank the Scotland Office for the offer to our fine art students to showcase work at its offices in London and Edinburgh.
ENDS
Published 21 October 2015