Press release
Scientists develop new synthetic skin
A new synthetic 'skin' has been developed that could be used to test new decontamination procedures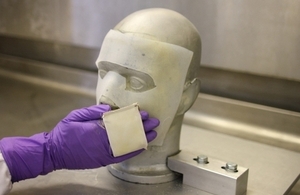 Ministry of Defence (MOD) scientists at the Defence Science and Technology Laboratory (Dstl), supported by Defence Equipment and Support (DE&S), have developed a new synthetic 'skin' that could be used to test new decontamination procedures.
The synthetic 'skin' was created as part of ongoing efforts to develop a more realistic test procedure that would emulate the immediate decontamination process used if personnel came into contact with a liquid chemical warfare agent (CWA). The new 'skin', made of a synthetic material, demonstrated similar surface spread and absorption properties to actual skin during testing using CWAs.
If personnel come into contact with a liquid CWA it is important that they are able to decontaminate skin as quickly as possible. Jayne Ede, Hazard Management Scientist, Dstl said:
This synthetic 'skin' provides a robust test to assess a decontamination procedure, something which has previously proved difficult in the laboratory. It can be manufactured in large quantities and be easily fixed to a mannequin head-form, this allows for testing to take into account the contours of a face giving a much more representative result.
The research work is being co-funded by Dstl's Programme and Delivery Directorate and the Chemical Biological Radiological Nuclear (CBRN) Delivery Team at DE&S. CBRN project manager, David Clements, said:
Someone who comes into contact with a liquid chemical agent could see their nervous system attacked via the skin. What this synthetic 'skin' enables researchers to do, is conduct trials and test decontamination protocols in a safe and scientifically robust manner. As well as plugging some of our knowledge gaps, the approach will allow more effective decontamination that could potentially save the life of those exposed to chemical agents.
Previous testing procedures only allowed for testing of small flat samples. Using a mannequin head-form enables scientists to also test how the decontamination process interacts with other personal protective equipment, such as a respirator.
The current in service personal decontaminant for UK military personnel, Decontamination Kit Personal – 1 (DKP-1), is a cloth pad containing an absorbent clay called Fuller's earth that absorbs liquid contamination.
Ian Shortman, Hazard Management Scientist, Dstl said:
As a result of this work and the development of the synthetic 'skin' we have already identified an alternative technology with comparable efficacy to DKP-1. We hope that in the future the use of the new test method will enable advances in products to be quickly and confidently adopted for enhanced decontamination of CWAs.
Additional research is currently underway to develop the prototype 'skin' to further match the properties of actual skin when in contact with a wider range of liquid CWAs. If successful, this approach will support even more realistic evaluation of skin decontamination technology options and allow transfer of test methods and materials to industry.
Published 12 September 2014