Schools to get more power to manage teachers
The Department for Education announces plans for significant reductions in the bureaucracy that controls how schools manage teacher performance and deal with poorly performing teachers.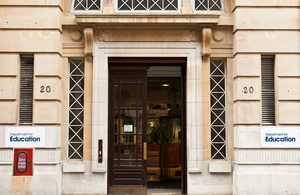 The Department for Education today announced plans for significant reductions in the bureaucracy that controls how schools manage teacher performance and deal with poorly performing teachers.
The current system for teachers' performance management is set out in the Education (School Teacher Performance Management) (England) Regulations 2006. These regulations are complex, detailed and prescriptive, telling schools what to do at every turn. The overall system fails to respect the professionalism of headteachers and teachers and makes it harder for schools to manage vital processes, such as how staff are trained and rewarded.
The existing School Staffing Regulations (2009) require governing bodies to have "capability procedures". Schools are expected to follow a complex "model capability procedure" for dealing with poorly performing teachers.
But the performance management arrangements and capability procedures were developed separately and this has created further complexity, overlap and duplication.
Ministers, therefore, have today published plans to cut this bureaucracy. The proposed changes will make it easier for schools to manage teachers and deal effectively with the small number of poorly performing teachers. They will:
introduce simpler performance management regulations, which set a few basic requirements, remove many restrictions (including the so-called "three hour observation rule"), and leave other decisions to schools
introduce an optional new model policy for schools that deals with both performance and capability/disciplinary issues
allow poorly performing teachers to be removed in about a term, a process that now often takes a year or more
clarify that staff illness need not bring disciplinary processes to a halt
scrap about 60 pages of unnecessary guidance.
These proposals are now subject to a 12 week statutory consultation. It is expected that the new arrangements for dealing with underperforming teachers will come into effect from September 2011. Revised regulations for performance management will be published in September 2011 and take effect in 2012.
Recent research for the Sutton Trust shows that heads and teachers support the aims of these proposals. More than half (57%) of those surveyed in November 2010 agreed or strongly agreed that there was not enough freedom for schools to dismiss poorly performing teachers. Less than a quarter (21%) disagreed or strongly disagreed.
Michael Gove MP said:
We have a great generation of headteachers and teachers. We want to help them to do their jobs even better. We want to make it easier for schools to provide teachers with the training and professional development they need to fulfil their potential and to help their pupils to do the same.

Heads and teachers also want a simpler and faster system to deal with teachers who are struggling. For far too long schools have been trapped in complex red tape. We must deal with this problem in order to protect the interests of children who suffer when struggling teachers are neither helped nor removed. Schools must be given the responsibility to deal with this fairly and quickly.
Brian Lightman, General Secretary, Association of School and College Leaders said:
ASCL welcomes this consultation which has the potential to reduce bureaucracy and streamline processes whilst retaining and strengthening important principles of fairness and transparency The vast majority of school staff are extremely hard working and set themselves high professional standards. Appraisal enables staff and school leaders to identify training needs and implement appropriate programmes of continued professional development.

In the relatively small number of cases where performance is unsatisfactory in spite of the formal and informal support that has been provided, it is essential for the benefit of the students that capability procedures can be implemented swiftly without the current constraints over timescales.
Russell Hobby, General Secretary of the NAHT, said:
These proposals will be generally welcomed by school leaders. Headteachers need the ability to move on the relatively few weak teachers present in our schools, and want to be able to do this fairly and without delay, to the benefit of pupils and, ultimately, staff. Both bureaucracy and delays are unfair to all involved.

Managing performance is an essential part of development for school staff. It ensures identification of training needs to allow staff to grow and also, where areas need attention, enables appropriate support to be provided. If, despite that support, the level of performance is still not satisfactory, then it is essential that this is dealt with quickly and fairly.
Darran Lee, Executive Principal to the Learning Federation and headteacher at Medlock Valley and Mills Hill Schools said:
These new proposals provide greater flexibility for school leaders to develop approaches that meet the needs of their school and secure the very best teaching for our children.

The merging of performance management and capability policies into one will ensure a continuum of support and challenge, removing duplication and overlap in procedures. This will enable leaders to take action more quickly when teaching is below expectations.
Ivan Ould, Chair of the National Employers' Organisation for School Teachers, said:
We welcome the Secretary of State's proposal to simplify the performance management arrangements for teachers. In particular we welcome the introduction of a clearer relationship between performance management and capability procedures in order to address cases, where teachers are falling below the standards which are expected of them as part of the employment contract, in a more appropriate and timely manner.
Notes to editors
The consultation can be found in the consultations section

The current model capability policy can be found in the publications section.
DfE enquiries
Central newsdesk - for journalists 020 7783 8300
General enquiries - for members of the public 0370 000 2288
Published 24 May 2011