Schools Minister Nick Gibb responds to key stage 2 attainment statistics
Gibb: "We want to raise academic standards for all young people and to close the attainment gap."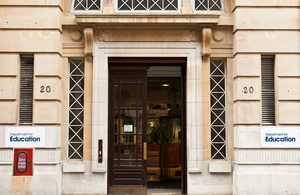 Nick Gibb has today commented on statistics showing key stage 2 attainment by pupil characteristics.
Schools Minister Nick Gibb said:
These figures reveal that our education system is letting down half of all 10- and 11-year-old boys who qualify for free school meals. It is not acceptable that at the end of primary school these children are still not reaching the standard in English and maths they need to flourish at secondary school. After 7 years of primary school, children need to be fluent in these basic skills which is why the government is putting such an emphasis on improving pupils' reading ability in the first years of primary school, with a focus on phonics.

It is also why we are giving such a priority to raising standards of behaviour in schools and supporting teachers and headteachers in their effort to instil a zero-tolerance approach to poor behaviour and low level disruption in class.

We want to raise academic standards for all young people and to close the attainment gap between those from poorer and wealthier backgrounds, so starkly demonstrated by today's figures.
 Further information
The Statistical First Release showing the key stage 2 results broken down by pupil characteristics are available on the DfE's data, research and statistics website.
Just over 4,000 schools - 26% - did not administer the tests this year. In all about 420,000 pupils took the tests, and results were returned to schools on time on 6 July 2010. As well as national results, statistics for key stage 2 tests are published for government regions and local authorities. The Department's Head of Profession for Statistics has confirmed that today's results are representative of the national picture and comparable to previous years. The results for 20 local authorities have not been published as it was considered that the schools that took part were unrepresentative of the profile of schools in the area as a whole.
Science was not included in the national curriculum tests this year. Instead a 5% sample of schools took science sampling tests to estimate national attainment in the subject. National results for this were published on 10 August 2010.
DfE enquiries
Central newsdesk - for journalists 020 7783 8300
General enquiries - for members of the public 0370 000 2288
Published 9 December 2010