School wing named in honour of Royal Air Force Leeming hero
Students were encouraged to 'grasp every opportunity' by an RAF Military Cross hero at the opening of a new school wing named in his honour.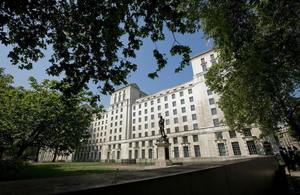 Sergeant David Hayden, based at RAF Leeming in North Yorkshire, was guest of honour at the official opening of the new Hayden Centre at Sir John Gleed School in Spalding, Lincolnshire.
The centre supports students who find mainstream education difficult or who need time to develop social and emotional skills. A self-confessed 'bad lad' in his youth, Sergeant Hayden - who was permanently excluded from Sir John Gleed School - admits that the centre would have been just what he needed.
Sergeant Hayden was eventually sent to an educational facility in Oxfordshire which catered for his particular educational needs. Through this he went on to join the Royal Air Force Regiment, which proved to be the making of him, allowing his true character to flourish.
He became the first RAF Regiment gunner to be presented with the coveted Military Cross following his outstanding bravery and disregard for his own safety during a sustained fire fight whilst deployed to Basra in Iraq in 2007.
On 7 August 2007, he was the second-in-command corporal of a patrol in Al Waki. After coming under intense enemy fire, Corporal Hayden, aided by one of his flight, ran into the open to bring Leading Aircraftman Beard, who lay grievously wounded, into cover.
Under constant enemy fire, he then carried Leading Aircraftman Beard a further 200 metres to safety before returning to lead the extraction of his men from the area. He received his Military Cross for gallantry from Her Majesty The Queen in 2008.
Sergeant Hayden had previously visited Sir John Gleed School to talk about his operational experiences, so, when the time came to choose a name for the new centre, it was the students themselves who nominated him.
Janet Daniels, Head Teacher at Sir John Gleed, said:
We had a provision before, but it was seen as a punishment - somewhere the students went if they did something wrong. We wanted a facility where students had the opportunity to learn in a structured environment, but also to learn social skills.

The eventual aim is for the children in the Hayden Centre to be reintegrated with the main school but some will spend longer in the centre than others. We don't see these children as someone else's problem. They are part of our community.
Before officially opening the new centre, Sergeant Hayden spent time with some of its current students. He said:
When I was at school some people learnt quicker than me and some were physically better than me and I couldn't deal with it so I had to be the centre of attention and this resulted in me being sent away from my family.

What you have here is really special and I'm in awe of it. When somebody throws you a lifeline you have got to grab it. Don't let anyone make you believe they are better than you.

It was a bit of a shock to find out that the centre would be named after me, and I can't thank the school enough. It has the potential to change lives without a shadow of a doubt because it is taking the time to change the mindsets of people, and the children themselves.
Published 24 September 2012