Saudi Arabia extends ceasefire in Yemen: Foreign Secretary statement
Dominic Raab urges the Government of Yemen and the Houthis to immediately cease all hostilities in Yemen and engage with UN proposals.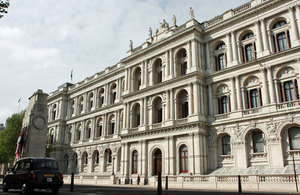 On Friday 24 April, Saudi Arabia announced an extension of its unilateral ceasefire in Yemen, first announced on 8 April, for one month.
The UK supports the call from UN Secretary-General Antonio Guterres on 25 March for all parties in Yemen to immediately cease hostilities and do everything possible to counter a potential coronavirus outbreak. The UK welcomes the positive response to the UN and Saudi ceasefire initiatives by the Government of Yemen and calls on the Houthis to reciprocate. The UK urges both sides to respond positively to UN Special Envoy Martin Griffiths' proposals, which offer the best chance for the peace that Yemenis need so urgently.
We are also providing life-saving UK aid to help those in desperate need and to mitigate the dreadful prospect of coronavirus exacerbating Yemen's dire humanitarian crisis.
Foreign Secretary Dominic Raab said:
This is another important step towards the permanent ceasefire Yemenis need.

The Government of Yemen and the Houthis must immediately cease all hostilities and engage constructively with the UN's proposals. This is a precious opportunity for peace in Yemen and should not be wasted.
Further information
Media enquiries
For journalists
Email: newsdesk@fco.gov.uk
Published 25 April 2020