'Sarah's law' protects more than 200 children in first year
More than 200 children have been protected from potential harm during the first year of the child sex offender disclosure scheme.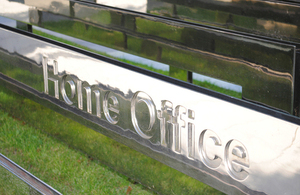 Over the last 12 months the police have received over 1600 enquiries and over 900 formal applications. At least 160 disclosures relating to child sex offences have been made, together with at least 58 made concerning other offences.
The scheme, known as 'Sarah's law', was rolled out across all police forces in England and Wales from 4 April 2011. It allows anyone to ask the police to check whether people who have contact with children pose a risk. If the individual has convictions for sexual offences against children or poses a risk of causing harm then the police can choose to disclose this information to the parent, carer or guardian.
Home secretary Theresa May said:
'Thanks to Sarah's Law, we know that more than 200 children have been protected from potential harm over the last year.
'We are doing everything we can to protect the public, and especially children, from predatory sex offenders by tightening the law and closing loopholes. But families themselves have a vital role to play.
'It is important that parents, guardians and carers are aware of the disclosure scheme and their right to request information if they have concerns.'
Association of chief police officers' lead on the management of sexual offenders assistant chief constable Michelle Skeer said:
'One of the strengths of the child sex offender disclosure scheme is that it allows any individual with a concern for the welfare of any child to make an application to their local police force. This empowerment of parents, carers, guardians and the wider public to take steps to protect children from harm, has seen concerns being raised by close and  extended family members and neighbours.
'Where it is deemed necessary to disclose information to safeguard a child, this is done to the person who is best placed to care for the child.
'The actions of these members of the public have undoubtedly led to children being protected and helped to ensure greater public confidence in the police and other responsible authorities in the monitoring of sex offenders.
'When information is disclosed there is an agreement reached with the carer that this information must remain confidential to ensure the wider safety of the public. Anyone wishing to make an application should make contact with their local police force.'
Child protection campaigner Sara Payne said:
'If just one child had been kept safe as a result of Sarah's Law then all the work to see it introduced would have been worth it. The fact that it is hundreds of children is wonderful and testament to the fact the scheme is needed.
'Worried mums and dads must now be told if their child is in potential danger and it sends out a message to convicted sex offenders that they cannot hide their criminal history and put children at risk.'
Notes to editors
1. The figures are based on information sent to the association of chief police officers but, as it is not compulsory for police forces to provide details on the number of enquiries or disclosures, the true figures are likely to be higher.
2. Guidance and tips for parents on signs that an adult may be using their relationship with a child for sexual reasons, sexual abuse warning signs in children and information on how to use the police disclosure scheme can be found here: www.parentsprotect.co.uk
Published 4 April 2012