Sarah Teather responds to the UNICEF report on children's wellbeing
Children's Minister Sarah Teather responds to the UNICEF report on Children's Wellbeing.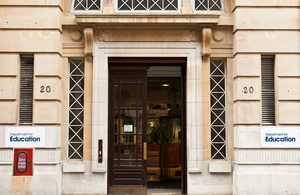 Responding to UNICEF's report 'Child well-being in the UK, Spain and Sweden: The role of inequality and materialism', Children's Minister Sarah Teather said:
We know strong, stable families are the bedrock of a successful society. We want to make sure all families have the help and support they need.

That's why we are consulting on plans to help parents better balance work and family life through more flexible and generous parental leave and flexible working. We are also looking at ways to give families better access to advice and support on parenting.
On consumerism
We share UNICEF's concerns about the rise of consumerism among children, and it's worrying to see that in some cases parents are under the same pressures. We are clear this needs to be tackled and are currently working with businesses and regulators to implement the recommendations from Reg Bailey's review on commercialisation and sexualisation of children.
On social mobility
We're committed to tackling inequalities so every child, regardless of social background, has the opportunity to thrive. That's why we are extending free early education to all disadvantaged two-year-olds so every child starts school ready to learn. We are providing extra funding for poorer pupils through the pupil premium, and we are transforming our education system to raise standards and equip all pupils with the skills they need to succeed.

For the most troubled families, we are also providing funding through the Early Intervention Grant to address the underlying problems which can have such a negative impact on children's future happiness, attainment and success.
DfE enquiries
Central newsdesk - for journalists 020 7783 8300
General enquiries - for members of the public 0370 000 2288
Published 14 September 2011