Sarah Teather responds to criticism of the SEN green paper in 'The Guardian'
Children's Minister Sarah Teather writes to 'The Guardian' to respond to inaccurate claims about the SEN and disability green paper.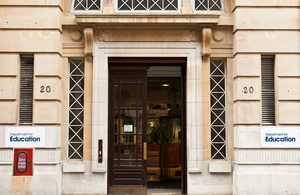 In response to the letter in the Guardian on Saturday 12 March 2011 about the SEN Green Paper:
Dear Sir
I was very disappointed to read the misrepresentation of the government's green paper on special educational needs and disabilities (letters p.41 Saturday 12 March 2011).
The suggestion that government is trying to make children with complex needs 'earn' a place in a mainstream school is both offensive and inaccurate. At the heart of the green paper is the importance of parental choice. Parents know what type of education they want for their child and they should be allowed to decide if that is a mainstream or special school, academy or free school.
At no point do we suggest that one form of schooling is better or preferable for children with additional or complex needs - this is about parental choice, not the ideologically driven idea that the state knows best.
Sarah Teather MP, Children's Minister
Department for Education
Published 14 March 2011