Sappers upgrade supply route in Helmand
Sappers from 29 Armoured Engineer Squadron, part of 35 Engineer Regiment, 'winter-proofed' Route Mars in Lashkar Gah district, Helmand province…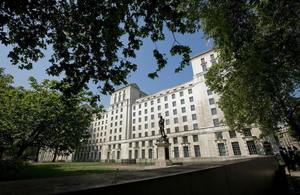 Sappers from 29 Armoured Engineer Squadron, part of 35 Engineer Regiment, 'winter-proofed' Route Mars in Lashkar Gah district, Helmand province, by installing 18 new culverts - or drainage channels - to make the road more resilient to flooding during the wetter winter months. They got the job done in just 14 days, well inside the 25 allocated.
Route Mars runs through Precinct 8 of Lashkar Gah, soon to be handed over to Afghan security control.
The repairs started with the sappers getting waist-deep in water to clear blocked culverts with shovels. Plastic piping was then installed to produce permanent tunnels through which water can easily flow, preventing the road from flooding. The final stage was to put new walls on the tops of the culverts to protect them.
Local Afghans also helped out, taking up shovels to clear the culverts and moving earth with one of their own tractors.
Staff Sergeant Richard Warren-Nichols, the commander of the operation, said:
It is vitally important that the precinct is in the best state possible before the handover between ISAF [the International Security Assistance Force] and the ANSF [Afghan National Security Forces].

Quite simply, if we hadn't inserted the culverts, then the Afghan National Security Forces and the local population would not be able to use the road this winter.

It was great to have help from the locals, particularly because they had a tractor, but more importantly because it showed their attitude towards ISAF and the future of their country.
Security in Lashkar Gah district is currently provided by the Queen's Royal Hussars (QRH) Battle Group.
Captain Adam Loots plans tasks for the engineers within the QRH Battle Group. He said:
Boosting the local economy is fundamentally important; if the economy is improving then the local population are more likely to turn away from the insurgency and accept governance. Roads like this help make that happen.

By putting the locals first and providing them with the basic needs they require, we are draining support from the Taliban and giving the Afghans the tools to create their own future.
Captain Chris Cameron, the QRH plans officer, said:
Precinct 8 is the perfect example of the progress being made in Helmand province, and will help pave the way for other precincts to transition. It is operations such as the Route Mars upgrade that will help make the transfer successful.
Published 9 December 2011