Sappers prepare for succeeding in Afghanistan
More than 300 Sappers from 24 Commando Engineer Regiment have been undertaking a gruelling week-long exercise at the Stanford Training Area (STANTA) in Norfolk to prepare them for possible deployment to Afghanistan.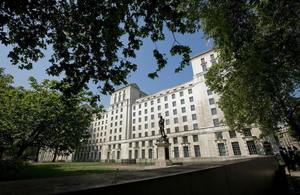 STANTA is a 30,000-acre (12,000 hectares) site that has been designed to expose soldiers to whatever a tour in Afghanistan could throw at them in a realistic environment. There are bazaars, shops and houses and even Afghan expatriates playing the role of the local population.
Forward operating bases have also been constructed. In Afghanistan, this will be the bread and butter of the regiment's work - building bases for British troops on the front line to enable them to 'live, move and fight', as the Commanding Officer of 24 Commando Engineer Regiment, Lieutenant Colonel Leigh Tingey, puts it.
The Chivenor-based Sappers from 24 Commando might be specialist carpenters, electricians, bricklayers and welders, but they've been sent to Norfolk for their most crucial skill to be tested - soldiering:
First and foremost they are soldiers," said Lt Col Tingey, "which is why my directive has been to concentrate on professional soldiering standards.
When we go back to North Devon we will be practising these skills over and over again until they're second nature by the time we deploy.
Every 36 hours they are being tested on a different element of the conflict. There are areas mimicking the fertile Green Zone of Helmand province where the Sappers will spend hours wading chest-deep through irrigation ditches carrying full kit, including weapons and body armour.
There are also urban environments where their mission is to react with real Afghans to get an understanding of Afghan culture and to earn their trust by holding mock 'shuras', or meetings.
To make it as real as possible, the Sappers have also been working alongside Afghan National Army officers and carrying out joint operations. This is exactly what they could be doing for real when they deploy.
It is backbreaking stuff, a real physical challenge even for the Green Berets of 24 Commando, but it's worth it:
This has come on in leaps and bounds," said Regimental Sergeant Major (RSM) Jim O'Kane. "The training is fantastic. It's going to test them. They've done training over the past few months preparing them for this.
They'll get a huge amount of training benefit out of going through these realistic serials here with all the assets attached to it. These are the basic skills. Everyone must have this before they go out on the ground.
The RSM was speaking outside one of the Hesco-walled compounds which are dotted across the training area. This one has been designed as a small Afghan settlement. There's a squadron of Army Commandos approaching, emerging from the tree line several hundred metres away. They are practising securing a local area and clearing it of insurgents so that local people can get on with their lives.
All of a sudden a high-pitched whistling sound comes from nowhere and within two seconds it has become a deafening roar. People put their fingers in their ears as a Harrier jet screams just a few hundred feet overhead. A couple of minutes later it is followed by an Apache attack helicopter:
I went through this training process as a Squadron Commander three years ago and the difference between then and now is quite staggering," said Lt Col Tingey. "I would suggest it is the most comprehensively resourced exercise that there is.
It's this realism which makes this exercise so valuable for the Sappers from 24 Commando. When they call in 'fast air' for support or a helicopter to rescue a casualty, real aircraft arrive. These are all vital skills which must be honed. The Sappers know they could be sent to Afghanistan at any time.
Published 25 November 2010