Sappers cycle in memory of fallen colleague
Soldiers from 33 Engineer Regiment (Explosive Ordnance Disposal [EOD]) have undertaken a cycle ride in commemoration of a colleague who was killed in Afghanistan, and raised over £3,500 for the regiment's injured soldiers fund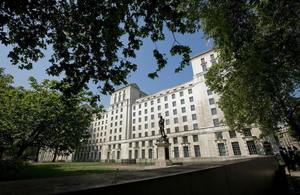 The soldiers completed a 523-mile (842km) bike ride in memory of their friend and colleague Sapper David Watson, who was killed in Afghanistan in December 2009.
The six-day challenge saw the soldiers cycle from Wimbish in Essex, where they are based, to the Commando Memorial in Spean Bridge, near Fort William in Scotland, where they laid a memorial stone in memory of Sapper Watson in the Garden of Remembrance. Sapper Watson's father Malcolm and his uncle also attended.
Keen cyclist and event organiser, Staff Sergeant Paul Clark, from 49 Field Squadron (EOD), visited the memorial earlier this year and decided to return at a later date to lay the memorial stone in Sapper Watson's memory.
The Commando Memorial was erected in 1952 to commemorate those commandos who fell during the Second World War - many of whom trained in the area at the Commando Basic Training Centre at Achnacarry.
Sapper Watson was commando- and paratrooper-trained. Known to his friends as 'The Leg' due to his long legs and phenomenal fitness, he served for a short time with 24 Commando Engineer Regiment before being posted to the Airborne Troop of 49 Field Squadron (EOD), part of 33 Engineer Regiment (EOD).
The team carried the memorial stone, engraved with the regiment's badge and Sapper Watson's name, in a day sack. Staff Sergeant Clark said:
I thought if I was planning to return to lay the memorial stone in Dave's memory then why not try and raise some money for the Carver Barracks Injured Soldiers Fund at the same time.
When I suggested cycling to the memorial, a lot of the other guys in the squadron said they wanted to take part as well.
Speaking about the cycle ride he said:
Some days were easier than others, but all the lads did a good job, we kept each other going. We all did it in memory of Dave - he was a great bloke and will never be forgotten and the money raised far outweighed any saddle sores or aching muscles we gained en route.
Launched in 2009, the fund will benefit from all the money raised, which will be used to make a difference to the lives of soldiers from the barracks who have been injured whilst on active service. Staff Sergeant Clark said:
We have already raised over £3,500 and we still have money to collect. We hope the end figure will be £5,000. On behalf of the team and the regiment I would like to thank everyone who has sponsored us, or donated money en route. It really is appreciated.
Anyone who would like to make a donation to the fund can send a cheque made payable to Central Bank 33 Engineer Regiment to Staff Sergeant Clark, 49 Field Squadron (EOD), 33 Engineer Regiment (EOD), Carver Barracks, Wimbish, Saffron Walden, Essex, CB10 2YA.
The team taking part in the ride were Staff Sergeant Paul Clark, Sergeant Dave Hird, Sergeant Simon Gardner, Corporal Richard Gardiner, Corporal Neal Griffiths, Corporal Tom Sherratt, Lance Corporal Ellis Acaster, Sapper Garrie Bain, Sapper Dan Taylor-Allen and Captain Lee Thornhill.
Supporting them on the ride was a team of four soldiers who drove back-up vehicles carrying repair kits and tyres.
Published 23 May 2011