San Carlos 'landing day' remembered in Falklands
More than 200 Falkland Islanders and members of the British Forces South Atlantic Islands gathered at San Carlos in the Falkland Islands on …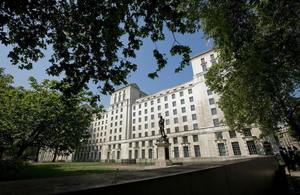 More than 200 Falkland Islanders and members of the British Forces South Atlantic Islands gathered at San Carlos in the Falkland Islands on Monday, 21 May 2012, for a service of commemoration to remember those who lost their lives and to mark the day, 30 years ago, when British forces landed in the bay.
Wreaths were laid at the event by the Deputy Governor of the Falkland Islands Mr Richard Nye, Falklands Legislative Assembly member Mrs Sharon Halford, and Commander British Forces South Atlantic Islands Brigadier Bill Aldridge.
Royal Navy River Class patrol vessel HMS Clyde was at anchor off the cemetery at Blue Beach as the service was conducted by chaplains who gave thanks for the courage and example shown by those involved as they landed on Blue Beach and Red Beach under enemy fire.
The Act of Remembrance was read out and the Last Post played, to a silent congregation, over San Carlos Water.
Published 25 May 2012