News story
Justice Secretary and Prisons Minister meet staff on prison visits
Staff thanked for their 'vital work' in delivering major reforms to improve safety and turn prisoners' lives around.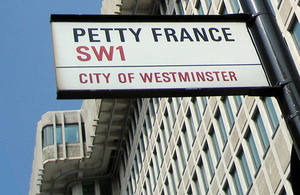 Justice Secretary Elizabeth Truss and Prisons Minister Sam Gyimah today paid tribute to the vital work of governors and staff as they visited prisons to continue engagement with frontline staff.
Today's visits, which come after previous visits to prisons in England and Wales, follow the Justice Secretary announcing a major package of reforms to improve safety – including an additional £100m to bolster frontline staff by 2,500.
During her visit to HMP Lincoln, the Justice Secretary met with the prison's Governor and officers to hear first-hand the challenges they face and how the reforms she has announced will help.
Justice Secretary Elizabeth Truss said:
"Prison officers at HMP Lincoln do a challenging and often dangerous job day in and day out which too often goes unnoticed and is undervalued.
"I came to Lincoln to let them know that the work they do its vital and I'm committed to giving them the support they need to do their jobs in safely and securely.
"We will continue to listen to them and all prison staff as we deliver on our important reforms to make prisons safe and cut reoffending."
HMP Lincoln is already making improvements to safety and security thanks to £160,000 of Government funding this year. This includes upgrading CCTV and the use of body worn cameras, rolled out nationally, to help prevent violence and provide robust evidence against perpetrators.
Last month, the Justice Secretary announced £14 million for extra resources at ten of the most challenging prisons in England and Wales. This will mean an extra 400 staff to help curbs rising levels of violence and self-harm fuelled by dangerous psychoactive substances. Job offers have already been made to fill almost 200 of those roles.
The major reforms announced this month will also give governors and staff more powers over education, work and health budgets so they can tailor support to the prisoners in their charge.
HMP Lincoln is already doing innovative work in this area, they are funding a specialist security analysts to evaluate the current regime. This will predict and prevent violence by directing resources to target suspected prisoners, ultimately stopping violence before it starts.
The prison is also working in partnership with the Lincolnshire Action Trust to create a "Departure Lounge", which provides essential staff support, advice and assistance to help prisoners being released into the community.
To help them get work on release, offenders can also take part in vocational classes which give prisoners skills in painting and decorating and carpentry. Training schemes provide valuable vocational work for offenders and can help to break the cycle of re-offending which costs society £15bn a year.
Similarly, HMP Leeds opened of a new 'Fusion Kitchen' in the prison this December, which will see prisoners take part in valuable vocational work to gain the skills and qualifications needed to get work in the catering industry on release.
The prison has also made improvements to safety and security thanks to £240,000 of funding from the Government this year. This includes extra money to roll out CCTV across the wings, as well as new safety measures to stop illegal contraband being thrown over the prison walls.
The Prisons Minister sat down with the Governor and prison officers at HMP Leeds to hear first-hand the challenges they face and how the reforms and increased investment is helping.
Prisons Minister Sam Gyimah said:
"HMP Leeds is a fantastic example of the prison Governor and officers working together to achieve great things.
"The innovative work that the Governor and staff are already doing at Leeds to help prisoners turn their backs on crime is exactly what we want to see across the prison estate as we embark upon the biggest prisons overhaul in a generation."
"I want to see all prisons becoming places of hard work and discipline where offenders are given the help they need to turn their lives around."
In the coming months, the Justice Secretary and Prisons Minister will be visiting prisons nationwide to continue their discussions with prison officers and governors.
As well as listening to staff there will also be a new recruitment drive aimed at getting top graduates and former servicemen and women into frontline positions.
By having more staff on the ground, we will provide the support that they need to do their job and enable more time to be spent reforming offenders.
Published 18 November 2016