Press release
Salford gang jailed for failed smuggling bids
Members of a gang from Salford have been jailed after attempting to smuggle Vietnamese migrants into the UK through the Eurotunnel.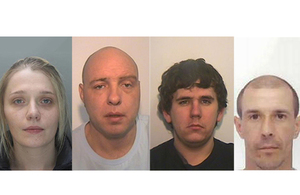 The group were behind 2 foiled bids to hide migrants inside hire vans and drive them to the UK from France. Both attempts, on 15 June and 21 June 2014, were thwarted when Border Force officers searched the vehicles and discovered the stowaways.
At Manchester Crown Court on Friday 9 September, the 5 were sentenced to a total of 7 years and 8 months imprisonment after pleading guilty to conspiring to facilitate illegal entry into the UK.
Ben Thomas, of Immigration Enforcement's crime team for the North West, said:
This shameless gang plotted to bring desperate people into the UK illegally purely for their own financial gain.
Thanks to the vigilance of Border Force officers, both attempts to breach the UK's immigration controls, made less than a week apart, were prevented. Our subsequent investigations led us to the group's ringleader and have ensured that all those involved in the conspiracy have been brought to justice.
We work closely with Border Force to prevent people smuggling, and this investigation demonstrates that the criminal gangs behind this trade will be caught and put before the courts.
On the first occasion, Border Force officers carrying out checks at the UK Border in Coquelles, France, searched a Ford Transit van which was due to travel on the Eurotunnel to Folkestone.
Officers discovered 11 Vietnamese nationals (8 men, 2 women and a child) in the back of the vehicle. The van's occupants, Wayne and Caroline Parker, were both arrested.
On the 21 June at the same location, officers discovered 4 Vietnamese nationals (2 men and 2 women) hiding underneath camping gear in the back of a Ford Connect van. The vehicle's occupants, Lee Twamley and Lauren Wall, were both arrested.
The 4 migrants found on 21 June were all also part of the group discovered on 15 June. All 15 were refused entry to the UK and handed to the French authorities.
Investigators linked the 2 smuggling attempts after examining mobile phone records of those arrested. The main organiser of the operation, Terry Robinson, was arrested in May 2015.
The full list of those sentenced, and their sentences, is:
Terry Robinson, 27, of Church Avenue, Eccles, was jailed for 3 years
Lee Twamley, 46, of Charlton Avenue, Eccles, was jailed for 20 months
Lauren Wall, 27, Roberts Street, Eccles, was jailed for 1 year
Wayne Parker, 45, of Whittle Street, Worsley, was jailed for 2 years
Caroline Parker, 44, of Whittle Street, Worsley, received a 16 month suspended sentence
Border Force officers use high-tech search equipment to combat immigration crime and detect banned and restricted goods that smugglers attempt to bring into the country.
They use an array of search techniques which, in addition to sniffer dogs, includes carbon dioxide detectors, heartbeat monitors and scanners (as well as visual searches) to find illegal stowaways, drugs, firearms and tobacco.
Anyone with information about suspected immigration abuse can contact Crimestoppers on 0800 555 111 anonymously or visit www.crimestoppers-uk.org.
Notes to editors
Arrests are carried out by trained immigration officers who carry out operations at businesses and private addresses, acting on intelligence received from the public and other sources. All intelligence is protected.
Custody pictures of those sentenced are available on request.
Published 13 September 2016