Press release
Sajid Javid in Manchester to announce multi-million pound boost to degree apprenticeship opportunities
A new multi-million pound fund to increase the number of degree apprenticeships available to young people has been launched.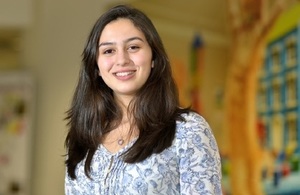 new £10 million fund to boost the number of degree apprenticeships available, providing more opportunities for young people to fulfil their potential
degree apprenticeships offer the very best of university and vocational education with a degree while earning
the Business Secretary made the announcement as he met degree apprentices in Manchester
A new multi-million pound fund to increase the number of degree apprenticeships available to young people has been launched today (24 March 2016) by the Business Secretary Sajid Javid on a visit to Manchester Metropolitan University.
First launched in September last year, degree apprenticeships allow for the study for a full Bachelor's or Master's Degree while working. Universities and employers are getting on board with institutions including Sheffield Hallam University and Queen Mary's University London working in partnership with top employers such as TFL, Nestlé and BAE Systems.
The new funding will help even more people get a degree while earning in one of the country's top businesses. £8 million will be focused on supporting universities to design and deliver new degree apprenticeships while a further £2 million will be devoted to encouraging more learners to choose degree apprenticeships. The fund will run for the next 2 years and the process for universities bidding for the funds will be announced in April 2016.
Research from Universities UK published last week as part of National Apprenticeship Week found that although degree apprenticeships are relatively new, numbers are growing, with an estimated 1,500 to 2,000 starts for 2016 across 40 universities.
Business Secretary Sajid Javid said:
We launched degree apprenticeships to unlock life changing opportunities for young people and give businesses the skills they need.

This multi-million pound fund will go further in helping universities and employers design new top quality degree apprenticeships and open doors to our young people.
Designed by employers, universities and professional bodies, degree apprenticeships deliver the high level skills businesses need and offer young people an alternative to a traditional degree. Ministers are working to strengthen the reputation of on-the-job training by raising standards, creating thousands more places and protecting the term apprenticeship in the same way as degrees.
More than 60 people are already studying at Manchester Metropolitan University as part of their Digital and Technology Solutions Professional degree apprenticeship. The course sees students working in employers such as Barclays, Lloyds and Astra Zeneca and with local employers Reality Mine, and Mc2.
Manchester Metropolitan University is planning to deliver a chartered manager degree apprenticeship from September 2016 with major national employers.
Provisional figures released yesterday (23 March 2016) show a dramatic increase in the number of people starting higher apprenticeships. The official figures show that there were more than 30,000 people on higher apprenticeships between August 2015 to January 2016. The figures also show that there are more young people staring apprenticeships, with over 84,000 starts by under 19-year-olds between August 2015 to January 2016.
Notes to editors
First launched in September last year (2015), they bring together university study with paid work at a top employer.
The English Apprenticeships 2020 vision document was published 7 December 2016 and outlines the government's plan to increase the quality and quantity of apprenticeships to reach the commitment of 3 million apprenticeships by 2020.
Degree apprenticeships are available in England.  
Case Studies
Haleema Baker-Mir
Haleema is 18 years old
Haleema is 1 of 2 of Nestlé's first 13 Chartered Manager Degree Apprentices, part of the leading Nutrition, Health and Wellness company's FastStart programme
she works from Nestlé's UK head office in Gatwick
she took her first step towards her Chartered Manager Degree Apprenticeship in September 2015
I'm 18 years old, so am delighted that Nestlé has offered me the opportunity to study for Chartered Managers Degree Apprenticeship. At school I always preferred to learn by doing, and so I felt an apprenticeship was the right course for me. At sixth form my school was very keen on sending me to university, but I just felt it wasn't the right course for me. My family was very supportive of my choice, and very proud.

Everything I do learn at university is directly applied to my job, for example I'm studying sales and marketing now, and when I move into a sales and marketing role as part of my rotation at Nestlé I'll be able to apply that to my job. I find it incredible that at the age of 21, compared to my friends who did go to uni, I'll have not only a degree but also a professional status. I'll already be in a role with a job under my belt and I'll have the work experience they won't have. I feel I'll be in a better position.
Harry King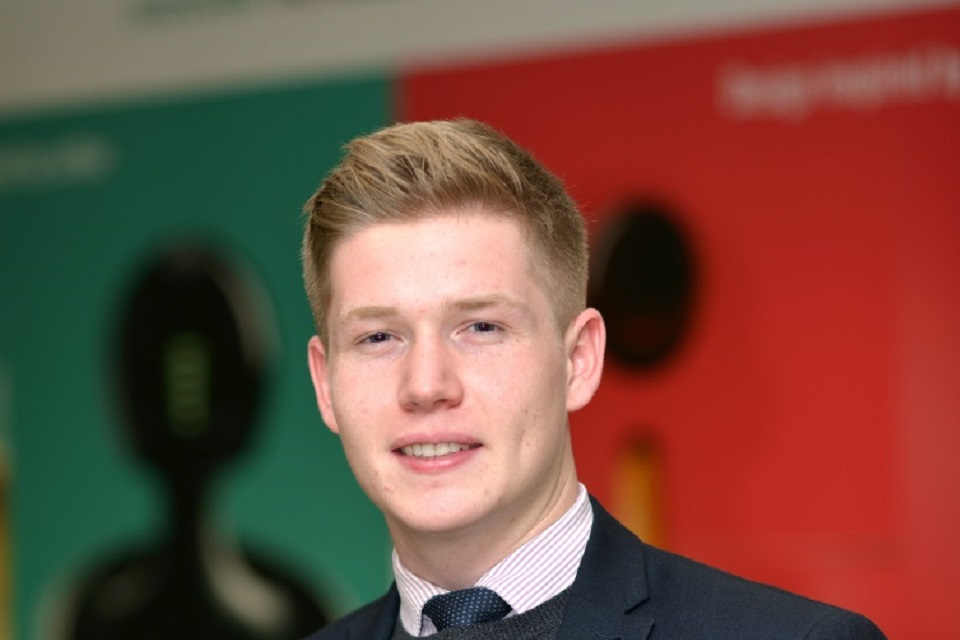 Harry is 19 years old
Harry is 1 of 2 of Nestlé's first 13 Chartered Manager Degree Apprentices, part of the leading Nutrition, Health and Wellness company's FastStart programme
he works from Nestlé's UK head office in Gatwick
he took his first step towards her Chartered Manager Degree Apprenticeship in September 2015
Harry works in Nestlé Professional on pack change and events management, overseeing artwork across Nestlé's product ranges
What's fantastic about the apprenticeship is the practical aspect. The difference from my A-levels is massive. School was 9 to 5 lectures and lessons, whereas here it is managing workloads, and using those to reinforce your lessons. You don't find many 19 year olds given that trust. It's with a big sense of pride that you realise you're being given that level of responsibility.

My family couldn't quite believe I was being offered the Chartered Manager Degree Apprenticeship because of how great the course is. Having a professional status will mean a great deal. To be recognised as a professional manager will really kick start my career - it's the sort of boost I'd otherwise need 10 years of on-the-job experience to achieve. And the benefits for Nestlé are really clear too - it's about growing talent within the team, finding the company's future leaders.
Chris Hallett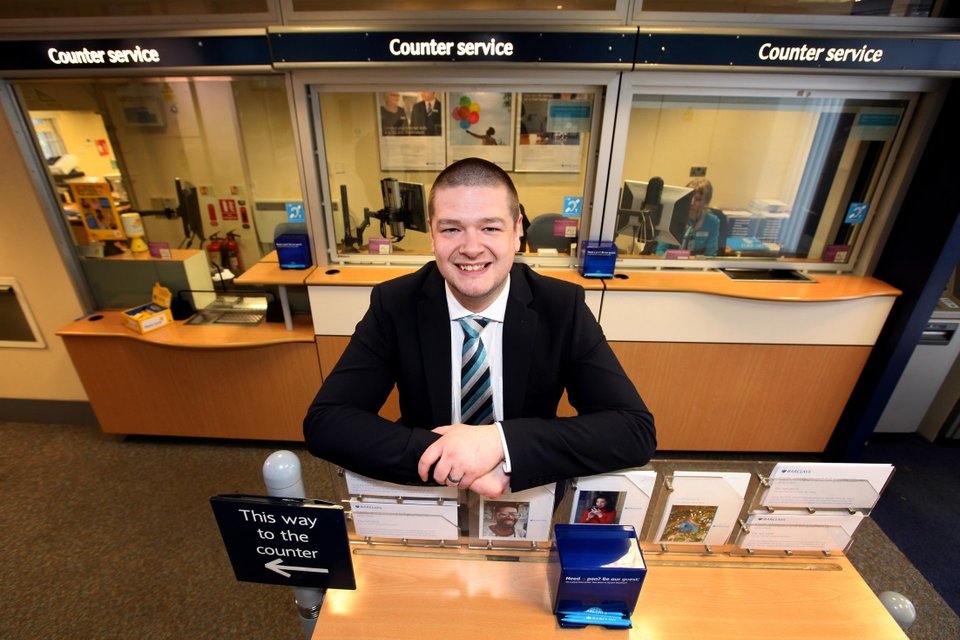 Chris is 29 years old
Chris is one of the first Chartered Manager Degree Apprentices at Barclays Bank, joining the scheme after 8 years with the world leading retail and investment bank
he is married with a 7-year-old son
he currently works at his local branch in Gateshead as a Community banker
I didn't do well at college I wasn't ready for education, I just wasn't focused. I've never struggled at applying myself in a work environment, and have always been in full time employment, but academic situations never suited me. Moving to Barclays 8 years ago, the first role I took was in sales, and I did well at that, especially on the customer service side. Now I'm keen not to narrow my experience, and gaining experience across the various branch functions is very important.

There's a large work-load, but now I feel ready to put my focus into the academic side, but there's a relief that it ties in with work. That's because now I understand why it is needed and important. At college I didn't have a clear picture of what I wanted to do, now I can apply it to real-life work. I find it easier to understand when the theory relates to the practical side. I've set my sights on achieving a first, and I'm 100% certain I'm going to see the course through.

Most of the other higher apprentices are younger than me, so I benefit from passing on my experience, but ultimately we're all keen to learn. Looking ahead 5 years I'm keen to get into a line management position, I'd like to take the lead in a transformation role within Barclays. I'm already seeing how my lessons can be applied, and while I'm not in a leadership role yet, I can see how different team structures work in different scenarios.

I can't quite believe that in 3 years I'll not only have a degree but also be a professional Chartered Manager. If I were to go back to tell my 16-year-old self about this course, then I'd tell them to pursue what they enjoyed. Don't focus just on the hours or the money, it's about where the job can take you. I can see how this sort of programme can be enormously beneficial in understanding how to manage people effectively, not just excelling at your technical skills, but leading teams to success.
Published 24 March 2016