Sailors prepare for Afghanistan at HMS Raleigh
Royal Navy personnel are being trained in weapon-handling skills at HMS Raleigh ahead of deploying to Afghanistan and on other land operations.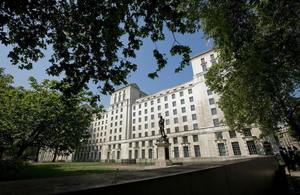 The Military Training Unit (MTU) at the Royal Navy base in Torpoint is providing Royal Navy personnel of all ranks and rates, including medical staff, with a two-week weapons package as part of their overall pre-deployment training.
The course covers weapons safety and maintenance, as well as live firings on the range from varying distances during the day and at night.
Weapons training is one of a series of rigorous courses and assessments which personnel undertake prior to deployment. It provides individual sailors with personal protection skills to ensure that they are fully prepared and are able to defend themselves and their colleagues on operations.
Training Officer Lieutenant Steve Kelly said:
Since 2009 we have provided pre-deployment training for up to 1,200 Royal Navy personnel each year, including medics, aircrew and logistics specialists. The training is common to all ranks and is mandatory for personnel who have been selected for deployment to Afghanistan, or indeed on any other land-based operation.
Royal Navy Medical Assistants regularly work under fire in the field and there is always a possibility that helicopter aircrew may be forced to land in a hostile area. It is therefore essential that all personnel due to deploy are trained to a recognised standard and are able to protect themselves and their comrades.
The MTU at HMS Raleigh provides cutting-edge weapons training for sailors of all levels, ensuring they are fully prepared to protect themselves or their units on operations at sea and ashore.
To deliver the training the unit has the most up-to-date facilities available to the Royal Navy, including two 25-metre ranges, a 600-metre range, six outdoor weapons training stances and two indoor weapons simulators. There are also several weapons training and multi-media classrooms for indoor instruction.
The Royal Navy is playing a key role supporting operations in Afghanistan. Elements of 845, 846, 847 and 857 Naval Air Squadrons are among the units currently deployed as part of Operation HERRICK 13 to provide airborne surveillance, troop movement and control capabilities.
Royal Naval Able and Leading Medical Assistants will provide support to 3 Commando Brigade when the Royal Marines deploy in April 2011.
Published 17 March 2011