Sailors honour Falklands fallen
Saluting their fallen forebears, four sailors from HMS Clyde recently honoured the crew of HMS Coventry, which was sunk in the Falklands campaign, after restoring their memorial in the South Atlantic islands.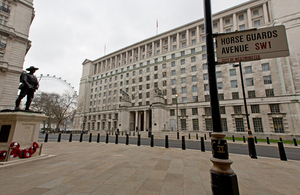 The ship's company of today's Falklands guardian have spent the past few weeks tidying up monuments and memorials peppered around the archipelago as their vessel patrolled the islands.
Either Clyde or the Royal Navy's South Atlantic patrol ship regularly maintain some of the outlying memorials. Last summer HMS Portland's sailors smartened up the Coventry monument on Pebble Island.
Just a few months later, however, the ferocity of the South Atlantic weather meant a return to Pebble Island was in order, so the men of Clyde duly obliged. HMS Coventry sank in 1982 with the loss of 19 crew.
The sailors from Clyde have also tackled three other memorials during their recent patrols of the Falklands: 2nd Battalion The Parachute Regiment's monument at Goose Green, 42 Commando Royal Marines' on Mount Harriet, half a dozen miles outside Stanley - and the scene of bitter fighting in the final days of the 1982 conflict - and the HMS Sheffield cenotaph.
The latter stands on Sea Lion Island, overlooking the point several miles away where the Type 42 destroyer was fatally hit by an Argentine Exocet missile.
Elsewhere a bit of Brasso and some good old-fashioned elbow grease sufficed to spruce up memorials, but on the exposed Bull Hill where the Sheffield cross and cairn are located, the elements had taken their toll.
The Clyde sailors found the stone wall surrounding the monument had been damaged by storms the previous week. It was returned to its normal state before a formal salute to Sheffield's 20 dead.
Published 17 February 2011