Sailors fight fire at Antarctic base
Two dozen crew from research and survey vessel HMS Protector helped fight the blaze which had engulfed the Ferraz research station on King George…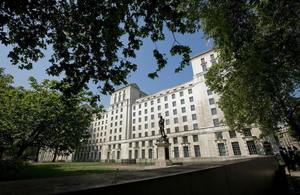 Two dozen crew from research and survey vessel HMS Protector helped fight the blaze which had engulfed the Ferraz research station on King George Island in the South Shetland Islands for four hours.
Sadly the fire claimed the lives of two Brazilian staff at the station.
HMS Protector's crew responded to an urgent call for help after the base caught fire. They arrived after the survivors - mainly Brazilian military and scientific personnel - had been evacuated and set about extinguishing the fire which was still raging.
Protector's crew used the ship's small boats to land vehicles and equipment.
The work boat Terra Nova landed a quad bike and trailer so portable pumping and firefighting equipment could be moved around the base.
Operations ashore at the remote site were co-ordinated by Protector's Executive Officer, Commander Don Mackinnon, working with Chilean and Brazilian naval personnel.
Captain Peter Sparkes, the Commanding Officer of HMS Protector, said:
This was a tragic incident which resulted in the deaths of two people and the injury of many more; our thoughts and prayers are with the Brazilian Navy's Antarctic Service and their families.

I am pleased that Protector afforded valuable and timely support during this incident. This is what the Royal Navy is trained to do, and does well.
HMS Protector arrived in Antarctica earlier this year and during her patrols has visited several research stations in the region.
The Ferraz research station is able to support 65 personnel during the southern hemisphere's summer months, most of whom are scientists conducting geological, bio-diversity and meteorological research.
During the southern winter the base shrinks to just 15 permanent Brazilian Navy staff.
The mainly Brazilian scientists are supported by a small number of Argentinean and Chilean academics who conduct research into the impact of human activity in the Antarctic through research into the local bird, fish and algae populations.
The station is supported by two Brazilian Navy Antarctic patrol ships.
Published 28 February 2012