Sailor discusses her work in Bastion Hospital
Leading Writer Rebecca Aitken, aged 31, served as a receptionist at the field hospital. Her duties included alerting medical staff and caring…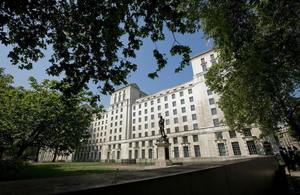 Leading Writer Rebecca Aitken, aged 31, served as a receptionist at the field hospital. Her duties included alerting medical staff and caring for troops injured by improvised explosive devices.
Leading Writer Aitken was the point of contact when a casualty was being rescued from across Helmand province and she would receive a short e-mail message in code that would tell her how many casualties were coming in and what was wrong with them:
I would hear a small ping on my computer, like a message alert, and that would spark me into action," she explained.

I would put out a trauma call and get the surgeons, anaesthetists and anyone else who needed to be there to respond.
The leading hand said her four months in Helmand had been the most worthwhile during her four years in the Senior Service. She said:
During the summer months it was really busy. On some days we had a casualty board with more than 25 names on it, occasionally there were over 30.

When the casualties arrived I would often be doing front-of-house duties where we would work to clean the patients as quickly as possible before they went into theatre.
On several occasions Afghan casualties would be brought into the hospital - and often they were carrying material that could have been used to make bombs.
Leading Writer Aitken said:
We found batteries, parts of mobiles and wires from time to time, which are the main parts of the improvised explosives there. It's another part of the work where you have to be vigilant and make sure you've done as many checks as possible.
Staying alert was made harder as the medical teams often work tiring shifts of 12-hours-on, 12-hours-off:
It was really hard work, and obviously sad for those who suffered severe injuries, but I'd love to go and do the same job again," she added. "I really enjoyed it and my dad would be proud as an ex-sailor.
Leading Writer Aitken joined the Royal Navy aged 27 after university, and so followed in her father John's footsteps - he spent 13 years under the White Ensign, often serving in the Indian Ocean.
Her partner Michael Fyans is also in the Navy, serving on the frigate HMS Monmouth, which has recently returned to Devonport Naval Base following counter-piracy operations east of Suez.
On returning from Afghanistan, Leading Writer Aitken received her Operational Service Medal from Commodore Paul Bennett, Director Naval Personnel Strategy, during a 'dismount' course for personnel coming back from theatre at HMS Nelson in Portsmouth.
Published 3 November 2011