Sailor defends base in Helmand from attack
Just as the sun was setting on Checkpoint (CP) Salaang in Helmand province, machine gun fire was heard coming from a neighbouring compound. …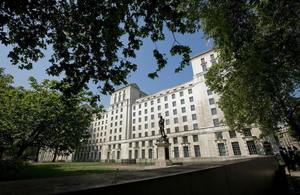 Just as the sun was setting on Checkpoint (CP) Salaang in Helmand province, machine gun fire was heard coming from a neighbouring compound.
Soldiers from 1st Battalion The Rifles (1 RIFLES) were brewing tea and preparing their evening meal when they heard the sound of an AK-47 assault rifle being fired. They immediately grabbed their rifles and body armour, then moved to take up positions along the walls of CP Salaang.
Already sitting on top of the barrier with her rifle aimed and ready to fire was Able Seaman (AB) Heidi Telford:
The lads told me to get on the wall," she said. "I didn't know what was going on at first. The only thought that was going through my head was 'don't come near me!'
The 21-year-old from Plymouth is serving on Operation HERRICK 14 as part of the Female Engagement Team (FET) in Nahr-e Saraj (South) [NES(S)]. In many parts of Afghanistan women are not permitted to talk to or associate with men outside of their immediate family. This hinders male troops from engaging with half of the country's population. AB Telford, along with other FET members, works to bridge these cultural divides.
Two years ago, while attending college and serving as a waitress at Her Majesty's Naval Base Devonport, AB Telford decided she wanted to travel the world and meet different people. So, following in the footsteps of her father, who had served in the Royal Navy for 23 years, she signed up.
AB Telford was formally trained to be a chef aboard ship. During her first deployment she served in the galley on board HMS Portland. It was during this deployment that her commanding officer recommended AB Telford for assignment to the next Female Engagement Team going to Afghanistan.
That is how she found herself on top of a HESCO wall defending the small checkpoint alongside soldiers from 1 RIFLES as Royal Marines from 45 Commando, who had come under attack from insurgents hiding in a compound 300m away, tried to make it back to safety.
Recently, Royal Engineers from the Task Force Helmand Engineer Group built a bridge across the Nahr-e Bughra canal to help improve trade and freedom of movement for the local Afghan community there. AB Telford now spends several hours each day on the southern side of the bridge working with Afghan National Army (ANA) soldiers, known as warriors, to screen any females who might be smuggling drugs or weapons into the protected community.
Major Paul Kyte, Officer Commanding Support Company, 1 RIFLES, said:
Able Seaman Telford has provided us with an ability to engage with females. She's done a cracking job in liaison with the ANA warriors in separating the females travelling in vehicles and being able to search them, but, more importantly, to search the vehicles in which they're travelling. It's a sensitive issue in Afghanistan. We've got to be aware of the cultural sensitivities involved.
AB Telford says she enjoys being able to greet local Afghan women, and does her best to assure them she means no harm:
They're quite scared at first, but, once they see me and see that I'm a female, they start smiling.
AB Telford lives and works alongside the men of 1 RIFLES. Like them, she carries a rifle, goes on patrols, fills sandbags, and mans a sentry post for several hours while wearing body armour and enduring temperatures of 50 degrees Celsius.
Sergeant Alex Miller, who works with the Military Stabilisation Support Team in NES(S), said:
She just mucks in with everyone else. She wants to do an excellent job out here. She's very enthusiastic about doing it.
AB Telford admits the lifestyle she is now embracing is quite different from the one she was used to when she was serving at sea:
I find it very hot and stressful. It's different sleeping on the ground and tasting dust in my mouth. But, even though it's hard, having the guys around really helps!
Published 4 July 2011