Sailor Beefeater begins work at Tower of London
Royal Navy Warrant Officer Class 1 Rob Fuller is only the second member of the Senior Service to become a Yeoman Warder of Her Majesty's Royal Palace and Fortress The Tower of London.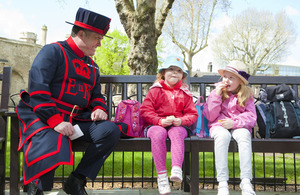 Since the rule of Henry VIII, ex-soldiers, and more recently airmen and Royal Marines, have performed the duty of guarding, and latterly, guiding visitors around the historic fortress. All must have completed at least 22 years' service and reached the rank of warrant officer.
Until 2009, sailors were exempt from the role. Unlike soldiers, airmen and marines, they swear no oath of allegiance to the monarch. But the Governor of the Tower petitioned The Queen to change the rules, and Her Majesty assented.
Now Royal Navy senior ratings can also qualify as Yeoman Warders.
WO1 Fuller, whose 34-year career in the Royal Navy saw him serve on assault ships Fearless and Intrepid and as Executive Warrant Officer - the most senior rating - aboard former flagship HMS Ark Royal, has become only the second sailor to don the famous black and red uniform.
After five months' training - including learning 'the story of the Tower' (which is akin to London cabbies learning 'the Knowledge') - WO1 Fuller had to take the Constable of the Tower on a tour to prove he knew all anyone would need to know about the historic riverside fortification.
Test passed, the 52-year-old was ready to guide the first of the daily 10,000 visitors through the gates of the Tower, with the help of the three dozen other Beefeaters - only the second sailor to do so in the 502-year history of the Yeoman Warders.
WO1 Fuller's title means he now lives in the Tower grounds:
It is surreal to see Tower Bridge out of the living room window," he said. "My kids think it's cool and like dad's job and his London pad a lot.
He added that he feels 'very proud and privileged' to join the long, illustrious line of Beefeaters - and blaze a trail for fellow matelots.
In years past the Beefeaters served as guards for the gates and prisoners in the Tower (including the Kray twins for avoiding National Service in the early 1950s), but today the role is a mix of ceremonial and tour guide (although the warders are also Extraordinary Members of the Queen's Bodyguard).
Published 31 October 2011