News story
Saga Sky and Stema Barge II report published
Collision between a general cargo ship and a rock carrying barge off the Kent coast resulting in damage to 2 subsea power cables.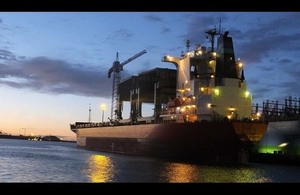 The MAIB's report on the collision between Saga Sky and Stema Barge II on 20 November 2016 in which both vessels had been driven towards the coast under the influence of adverse weather conditions created by Storm Angus and resulting in two subsea power cables being severed, is now published.
The report contains details of what happened, subsequent actions taken and recommendations, read more.
Press enquiries
Press enquiries during office hours 01932 440015
Press enquiries out of hours 020 7944 4292
Published 15 March 2018