Saffron Walden welcomes home EOD and Search Task Force
Saffron Walden town square was bursting with pride on Friday as the community came together to welcome home around 300 soldiers from the Explosive Ordnance Disposal (EOD) and Search Task Force.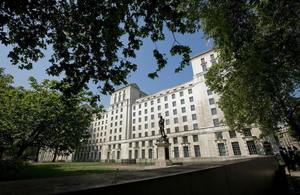 Hundreds of well-wishers, joined by the soldiers' families and friends, waved and cheered as the soldiers marched through the streets led by the Band of the Corps of Royal Engineers.
The homecoming parade was part of a full day of events that began with a private memorial service at Carver Barracks in Wimbish, the home of 33 Engineer Regiment (EOD), to remember three members of the Task Force that made the ultimate sacrifice: Sapper Connor Ray from 49 Field Squadron, 33 Engineer Regiment (EOD), and Corporal Andrew Roberts and Private Ratu Silibaravi, both from 23 Pioneer Regiment Royal Logistic Corps.
Also remembered were those soldiers who had suffered life-changing injuries on this and previous tours.
The Task Force consisted of around 400 Service personnel from across the Army, Navy and Air Force. It was based around 33 Engineer Regiment (EOD), with 28 contributing units from across the UK and Germany, and involved 20 different cap badges.
Its two main roles were providing counter-improvised explosive device support to Task Force Helmand in addition to the main effort of developing a sustainable explosive ordnance disposal capability within the Afghan National Security Forces.
In order to achieve its mission, the Task Force was structured with three main sub-units.
The Operations Squadron provided the Specialist Explosive Ordnance Disposal and Search Task Teams, which supplied manoeuvre support and force protection to the infantry units operating across the Task Force Helmand area of operations.
The second sub-unit was the Counter-Improvised Explosive Device Training and Advisory Group whose role was to develop EOD capability in both the Afghan National Army and Afghan National Police as well as delivering counter-improvised explosive device training to Task Force Helmand.
The third sub-unit was a Military Working Dog Squadron which delivered military working dog support to the Operations Squadron and more widely to all Task Force Helmand units through the provision of different types of search and protection dogs.
Keeping things running smoothly fell to the Task Force Headquarters and Operations Room and the Task Force Echelon based in Camp Bastion.
Addressing the soldiers on parade the Chairman of Uttlesford District Council, Councillor Christina Cant, said:
We greet those who have just returned from onerous duty in Afghanistan and at the same time we honour and remember those who have given their lives in this campaign.

It is a source of pride and pleasure for us all to be here and to witness this notable event. This district values its connections with the Army.

We are justly proud of our soldiers and acutely aware of the dangerous work you do on our behalf. The record of duty and heroism of those involved in bomb disposal is an inspiration to us all.
The afternoon saw the soldiers receive their Op HERRICK campaign medals in the grounds of Audley End House.
Commanding Officer Lieutenant Colonel Simon Bell said:
Our work in Afghanistan was difficult, delivering specialist capability in temperatures of around 50 degrees; often operating on foot carrying in excess of 50kg of equipment takes stamina and determination.

I am delighted and proud of the achievements that we have made as a Task Force. The Task Force undoubtedly saved the lives and limbs of both security forces personnel and local afghans through disposing of in excess of 400 IED devices.

Furthermore the Afghan National Security Forces have significantly more EOD teams and a much more confident and competent capability that will endure.
Published 15 October 2012