Press release
Saffron Walden community flood risk drop-in
Work to clear debris and inspect the condition of the culvert (tunnel) which carries the River Slade under Saffron Walden Town Centre is being carried out by the Environment Agency.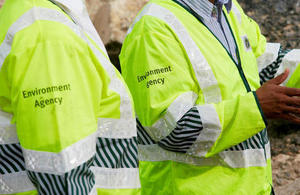 Residents can learn more about this work and the risks of flooding in Saffron Walden at a community drop-in on Thursday 19 February 2015.
The drop-in will take place between 2pm and 7pm at the Assembly Room, Saffron Walden Town Hall, Market Place, Saffron Walden, Essex, CB10 1HR.
Environment Agency staff will be joined by representatives from Uttlesford District Council and Essex County Council.
Staff will be on hand to answer questions about flood risk, the work taking place and to explain the rights and responsibilities of riparian landowners - people who own land next to, or over, a watercourse. Visitors will also be given tips on how to prepare for floods and information about the flood warning service in Saffron Walden.
Hibernating bats
Liz Taylor, Flood Risk Advisor for the Environment Agency said:
Reducing the risk of flooding to people and property is a key role for the Environment Agency.

We began an initial CCTV survey of the Town Centre culvert, which runs directly underneath properties in Saffron Walden, ahead of our work to clear debris and carry out a detailed asset inspection. The survey found bats hibernating in the culvert which meant putting our work on hold until they have left. All bat species and their breeding or resting places (roosts) are protected by law.

We will be carrying out a check at the end of March and hope to continue the work on the culvert once we are sure they are no longer hibernating. Despite this delay, we would particularly like to speak to those residents directly affected by our work and provide information to other riparian landowners about their roles and responsibilities for maintaining watercourses on or adjacent to their land.
Riparian owners
Riparian landowners have primary responsibility for making sure that the banks of their watercourse are solid, that banks and structures in the water are clear of obstructions which could cause flooding, that the bed, banks, trees and shrubs are maintained and that any litter or debris is removed. Riparian landowners should ensure that the water is free flowing.
The Environment Agency's guide to 'living on the edge' provides more information about the rights and responsibilities of riparian landowners. This document is available on the gov.uk website https://www.gov.uk/government/publications/riverside-ownership-rights-and-responsibilities
You can check to see if you are at risk of flooding by visiting https://www.gov.uk/prepare-for-a-flood/find-out-if-youre-at-risk or by calling Floodline on 0345 988 1188. The Floodline service is easy and free to sign up to. Floodline issues a message directly to you by telephone, mobile, email or SMS text message when flooding is likely.
The Environment Agency also has a new SMART phone App called Flood Alert which you can download for free to your phone or via Facebook.
Published 10 February 2015