Safety at Sellafield is gold standard
Sellafield Ltd has recorded one of its best-ever performances in the Royal Society for the Prevention of Accidents (RoSPA) 2016 awards.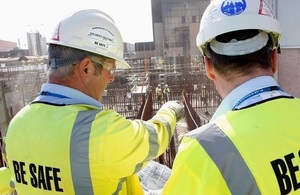 Safety at Sellafield nuclear site, in west Cumbria, is gold standard, according to the UK's most prestigious health and safety awards.
The site recorded one of its best-ever performances in the Royal Society for the Prevention of Accidents (RoSPA) awards, scooping 9 golds and 1 silver.
Now in their 60th year, internationally-recognised RoSPA awards are the UK's most sought after safety awards.
4 of Sellafield Ltd's gold medals were won in the highest hazard areas of the site – the legacy ponds and silos.
Pete Lutwyche, NDA's Chief Operating Officer, said:
The awards are a clear demonstration of the importance placed upon safety by everyone involved in the complex mission to clean up Sellafield.

This is a great accolade to the people who work at the nuclear site; each one instrumental in ensuring that the site is safe whilst progressing hazard reduction and decommissioning.

These awards are independently awarded for the highest standards of health and safety performance and I am proud to see Sellafield Ltd recognised alongside the very best organisations.
Euan Hutton, Sellafield Ltd's Environment, Health, Safety and Quality Director, said:
The awards underline the company's unwavering commitment to the safety of its workforce and the community.

Sellafield is one of the world's most hazardous nuclear sites, but we are also one of the safest – and that does not come about by chance,

Winning 10 RoSPA awards is a fantastic achievement given the challenges our workforce face every day and the huge range of activities they undertake.

Achieving such high safety standards in challenging circumstances is down to the hard work and dedication of our workforce.

These awards are proof of how seriously we take our responsibility to manage the clean-up of the UK's nuclear legacy safely and securely.

However, we are never complacent – we constantly strive to improve and we always seek opportunities to push ourselves further.
Sellafield Ltd was awarded alongside some of the highest safety performing organisations from around the world, including many of the company's contractors.
Mr Hutton added:
Our contracting community make up a large part of the workforce at Sellafield and I'm pleased that their commitment to safe working has been recognised through the many awards they have achieved.
The 10 RoSPA awards were presented to the following areas of Sellafield Ltd:
Sellafield Ltd
First Generation Magnox Storage Pond
Pile Fuel Storage Pond
Magnox Swarf Storage Silo
Pile Fuel Cladding Silo
Site Remediation and Decommissioning Projects
Environmental Health Safety & Quality
Major Projects
Operations Division
Technical and Engineering
Published 2 September 2016