News story
Safeguarding the future of Royal Mail
Today the Government laid out plans to protect two cornerstones of British life - the Royal Mail and the Post Office.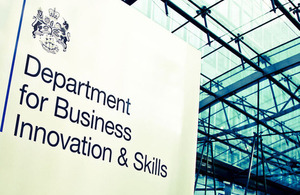 "Royal Mail and the Post Office are cornerstones of our society. My policy is to put them on a stable footing for the future". _Business Secretary Vince Cable _
The Postal Services Bill put before Parliament proposes to address the challenges facing both organisations; fewer letters sent, increased competition from email and the internet, and a pension deficit.
It will be scrutinised and debated by Ministers in the House of Commons in the coming months before being considered by the House of Lords.
View Postal Affairs Minister Edward Davey explain the Postal Services Bill and the need for urgent reform of Royal Mail:
Postal Services Bill explained Part 1
Postal Services Bill explained Part 2
The Government has made the following proposals in today's Postal Services Bill:
Royal Mail
The universal postal service (collection and delivery of post six days a week at uniform, affordable prices) should be kept. The Government has no intention of downgrading them.

An injection of private capital - ending the dependence on funding from the taxpayer and bringing new commercial disciplines into the business.

At least 10% of shares to go to its employees in the future. This will be the largest employee share scheme of any privatisation, larger than British Telecom, British Gas or British Airways.

Royal Mail will be relieved of its enormous historic pension deficit by the Government.

The existing regulator, Postcomm, will be replaced by Ofcom, the communications regulator.
Post Office
The 11,500 Post Office branches are not for sale and there will be no further programme of closures.

Possible conversion into a mutual structure similar to the John Lewis Partnership or the Co-operative Group, handing over the ownership and running of the Post Office to employees, sub postmasters and local communities.
Key Facts
Mail volumes have declined by 15% since their peak in 2005. That's a decline from 84 million to 71 million, or 13 million fewer items delivered each day.
Richard Hooper's report predicts that worldwide mail volumes will fall by 25-40% over the next five years.
Royal Mail lost around £500 million in operating profit to other forms of communication in 2007-08, five times the operating profit lost to postal competition.
Looking at the letters business for each company, for every £100 of revenue in 2009-10 Royal Mail made £1.80 of profit, whereas TNT and Deutsche Post each made over £10.
At the latest formal triennial valuation in March 2009, Royal Mail's pension deficit was valued at £10.3 billion.
Over 99% of the UK population live within three miles of a Post Office branch.
Links
BIS Press Notice - Safeguarding the future of Royal Mail
BIS Press Notice - Post Office could be mutualised
Youtube videos - Postal Services Bill explained part 1
Youtube videos - Postal Services Bill explained part 2
The Hooper Report - Saving the Royal Mail's universal postal service in the digital age
Published 13 October 2010