Safeguarding funding for research and innovation
The government safeguards funding in a major commitment to maintain the UK's status as a world leader in science, research and innovation.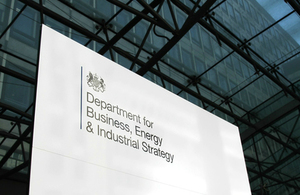 the Treasury will underwrite funding for approved Horizon 2020 projects applied for before the UK leaves the European Union
the commitment will provide reassurance to applicants from the UK's research and innovation base when applying for EU research funding
Recognising the importance of science and innovation to society, productivity and economic competitiveness, the government has today provided reassurance to UK participants of the European Union's Horizon 2020 Programme with a commitment to safeguard funding for research and innovation projects.
As a result, British businesses and universities will have certainty over future funding and should continue to bid for competitive EU funds while the UK remains a member of the EU. The Treasury will underwrite the payment of such awards, even when specific projects continue beyond the UK's departure from the EU.
The announcement follows government's commitment in last year's Spending Review to protect UK science spending in real terms, providing £26.3 billion from April 2016 to April 2021.
Business and Energy Secretary Greg Clark said:
The government's commitment to our world-leading science and research base remains steadfast. By underwriting the significant Horizon 2020 grants we are showing the extent of our commitment, standing squarely behind our researchers and scientists as they continue working with their European partners to develop new technologies, discover life-saving medicines and pioneer every day innovations that will benefit all hard-working Britons
The UK is world renowned for our contribution to global science and innovation, ranking second in the most recent Global Innovation Index as well as being home to the most productive science base in the G7.
Science Minister Jo Johnson said:
For centuries, Britain has been at the forefront of world-leading science and, as a truly global knowledge economy, it's more important than ever that we support the brightest and best researchers and innovators. We've protected the UK science budget until the end of the decade and are strengthening the Higher Education system and our support for innovation. By underwriting Horizon 2020 funding in this way today, we are again demonstrating the importance we place on maintaining the world leading research that takes place in the UK
Horizon 2020 is the European Union's flagship research and innovation programme aimed at securing Europe's global competitiveness. With a budget of almost €80 billion between 2014 and 2020, the programme awards funding to the most innovative research ideas to help bring them to market quicker, creating jobs and benefiting the lives of millions around the world through scientific breakthroughs and new technologies.
The UK is a significant contributor to European science and research. Through the programme the UK has secured 15.5 per cent of total funds to date totalling around €2 billion, second out of all participating countries.
Examples of UK projects that have brought their ideas to market through the programme span a variety of sectors, from life sciences to engineering:
Scotland's Censo Biotechnologies, the parent company of Roslin Cell Sciences, led the creation of a 27 partner European consortium to establish the European Bank for induced Stem Cells, aiding the production and use of stem cells to develop new research techniques and medicines for patients.
Ricardo, a global engineering, strategic and environmental consultancy based in Shoreham, led a project of 8 partners to deliver a working platooning system for trucks and cars. Through their innovative electrical systems and smart technology which allow vehicles to communicate with each other, they successful demonstrated a convoy system of vehicles on public roads in mixed traffic. This technology has great benefits for the transport sector, improving safety and traffic flow on roads.
Published 13 August 2016