Press release
Safeguarding consultation on HS2 route to Crewe launched
Consultation to enable protection of land for potential development of HS2 Phase Two.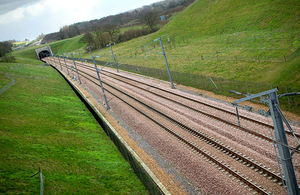 Residents on the Fradley to Crewe section of the HS2 Phase Two route are being consulted on plans to protect land from conflicting development the Department for Transport announced today (4 November 2014).
The 9 week safeguarding consultation will pave the way for the protection of this corridor of land and ensure new development in the area does not affect the ability to build and operate HS2 in the future.
A final decision has yet to be made on the HS2 Phase Two route, however the Secretary of State considers it is appropriate to consult now on issuing safeguarding directions for this part of the route.
Transport Secretary Patrick McLoughlin said:
HS2 is a vital part of our long-term economic plan. It will improve connectivity, free up space on our existing network, boost local skills and generate tens of thousands of jobs.

The evidence so far indicates that routing HS2 to Manchester via Crewe would be the right strategic option. This is still to be confirmed, but undertaking this consultation will allow us to deliver our plans more quickly once a decision is made.

I want communities engaged in our plans from the outset. This consultation will ensure we are fully taking their views into account.
Should a decision be taken to safeguard land following this consultation, safeguarding directions are expected to be published in spring 2015. People who own or occupy land affected will then have the right to ask the government to buy their property.
In March 2014, Sir David Higgins' HS2 Plus(PDF, 648KB) report identified that the benefits of high speed rail could reach the north sooner if Phase Two of the railway were accelerated and the line was extended to a new regional transport hub at Crewe by 2027, 6 years earlier than planned.
Further analysis has found that a route via Crewe has lower costs and higher benefits than other options, including good connectivity to North Wales, the Midlands, the north and Scotland.
HS2 Ltd is continuing its analysis of options and how the benefits of HS2 can be spread as widely as possible. This more in depth analysis will inform the decision on the whole of the Phase Two route.
The government remains committed to a Y route for HS2 between Birmingham and Manchester and Leeds. A decision on the final Phase Two route will be made in 2015.
Related information
A written ministerial statement about the HS2 route was to Parliament by the Secretary of State for Transport Patrick McLoughlin.
Safeguarding consultation maps for the Fradley to Crewe section of the HS2 Phase Two route have also been published.
HS2 and major projects media enquiries
Press enquiries 020 7944 3021
Out of hours 020 7944 4292
Switchboard 0300 330 3000
Published 4 November 2014