News story
Russia touchdown for easyJet
Ambassador Tim Barrow and British Embassy colleagues were on hand to welcome the first flight of a new British carrier into Russia.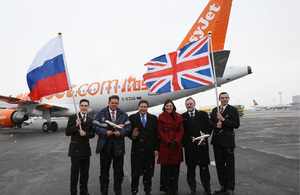 easyJet's distinctive white and orange livery aircraft touched down at Moscow's Domodedevo Airport from London Gatwick and now expects to fly more than a quarter of a million passengers between Moscow and London annually.
Aboard were British media, politicians and a trade delegation of UK businesses planning to start doing business with Russia. Among the welcome party was Daniel Burkard, Domodedovo's Director of External and International Relations.
easyJet's chief executive officer Carolyn McCall hailed it as an 'historic day' for the company, which also celebrated its promotion to the FTSE 100 list of the country's leading companies. "Moscow – London is a landmark route and we are delighted to make it easier and more affordable than ever to fly between these two capital cities," she said. "Russia is the world's largest country with a growing economy and so offering frequent and affordable transport links enables easyJet to play a key role in aiding trading links between our two countries. I am pleased to have around a dozen UK companies travelling with us today aiming to start to build relationships in Russia from many sectors including food, technology and manufacturing." Bookings to date on the route have exceeded expectations, with high levels of interest on both sides of the route. "I would like to say a big thank you to Mr. Neradko and his team at the Russian Federal Air Transport Agency who have worked tirelessly to help us launch the route as well as Mr. and Mrs. Pleshakov at Transaero Airlines with whom we recently signed a Commercial Agreement."
Daniel Burkard said: "We are happy that Domodedovo has become the first Russian airport opening low-cost flights to the UK. Domodedovo is popular among Russian and foreign tourists, and this is confirmed by the highest in Russia passenger flow at the airport. easyJet's offer of the number of flights and pricing is a good news for travellers".
Flights between London and Moscow will operate daily, increasing to twice daily from 15 April. easyJet will also be launching services between Moscow and Manchester on March 28, allowing a further 60,000 passengers a year to take advantage of the first-ever direct scheduled link between the two cities.
Published 28 March 2013