News story
Russia lists 150th Organisation Under 'Foreign Agents' Law
Foreign Office Minister, Sir Alan Duncan, expresses concern over the increased pressure faced by civil society in Russia.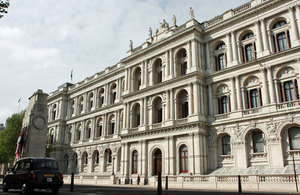 The "Foreign Agents" law was introduced by the Russian Government in July 2012. It has the effect of making it much more difficult for civil society organisations to operate, by depriving them of vital overseas funding and subjecting them to overly-burdensome reporting, auditing requirements and heavy fines for non-compliance. Almost 20% of the organisations added to the Foreign Agents register have subsequently closed down.
The 150 civil society organisations which have been added to the register mainly work in Human Rights-related areas (including LGBT rights, HIV prevention, media freedoms and defence of democracy). But there are also a number of environmental NGOs and cultural and scientific organisations, including those working in healthcare. The international branch of Memorial, which is highly respected internationally for its work over many years to preserve the memory of victims of Soviet persecution, and the Levada Centre, a well reputed independent polling agency, have both been added to the register. The 150th organisation to be added was Project April, which works on HIV prevention.
FCO Minister for Europe and the Americas, Sir Alan Duncan, said:
We remain deeply concerned about increasing pressure faced by civil society and human rights groups in Russia. As of 19 December, 150 organisations have been added to the foreign agents register since the introduction of the "Foreign Agents Law" in 2012, shrinking further the space for civil society in Russia. By imposing the politicised and highly stigmatising label of 'Foreign Agent', the Russian Government is attempting to discredit and undermine the important work of NGOs – an essential element of a vibrant civil society.
Further information about the human rights environment in Russia can be found in the FCO's Human Rights Report.
Further information
Published 23 December 2016