Press release
Rural charities urged to apply for community transport minibus fund
£25 million fund will provide hundreds of new minibuses.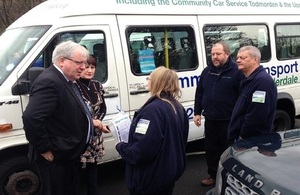 Hundreds of community transport organisations across the country are now being invited to apply to a new £25 million fund to provide them with new minibuses.
The Department for Transport has now published full criteria for applying for the fund today (28 November 2014) and organisations across England can begin to prepare their applications. Community groups have until 15 January 2015 to apply, with early bids being welcomed.
Secretary of State for Transport Patrick McLoughlin said:
Local voluntary transport providers give so much to their local area and our community minibus fund will help support their work further. This large fund will secure hundreds of minibuses and we are offering a long application time to give everyone a chance to apply.

I encourage community transport organisations across England to begin preparing their applications now so we can receive as many as possible.
The online application process will be available on the Department for Transport's website from Monday 1 December 2014. The community transport minibus fund is focused on existing voluntary and third sector organisations that already have a permit to run not-for-profit services of benefit to the local community.
Smaller operators and those who help out in rural areas will be favoured in the scheme. Each bidder will need to undertake that the vehicle will be used only for voluntary services and will not be used to compete for bus service contracts.
Roads media enquiries
Press enquiries 020 7944 3021
Out of hours 020 7944 4292
Switchboard 0300 330 3000
Published 28 November 2014