News story
RUMA - VMD Conference: 'Responsible Use - Ideas into Action' - 3 November 2015
This conference will be of interest to anyone involved or interested in the use of medicines in food producing animals.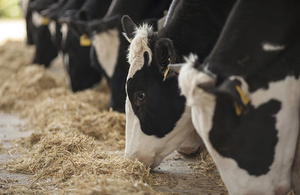 The Responsible use of Medicines in Agriculture Alliance (RUMA) and the VMD will be holding a conference on Tuesday 3 November at the Sainsburys Conference Centre (PDF, 66.2KB, 1 page) , Holborn, London.
The conference will address four key subjects;
what do we mean by responsible use?
what influences responsible use?
measuring and monitoring medicine use
how do we communicate what we are doing?
Save the date flyer (PDF, 265KB, 1 page)
Conference Programme (PDF, 223KB, 4 pages)
The cost will be £95 (no VAT) Booking form (PDF, 52.9KB, 1 page)
Published 3 September 2015
Last updated 26 October 2015
+ show all updates
Updated conference information
First published.