World news story
Rugby 7s World Cup reception at British Ambassador's Residence
Reception for the British teams who had taken part in the Rugby World Cup Sevens in Moscow was held at the HMA Residence.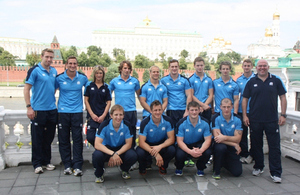 British Ambassador Tim Barrow welcomed Scottish and Welsh men's teams, English national woman's and men's teams. The English national men's team was the second in the World Championship.
In his speech the Ambassador said that he had enjoyed watching the games in Moscow. He thanked President of the Russian Rugby Federation Vyacheslav Kopiev for his contribution to the development of this sport discipline and congratulated Russian teams. The Russian national men's team won the World Cup Bowl.
The Ambassador noted stable development of co-operation between Russia and Great Britain in sport area which will continue to develop, as part of preparatory work for the Winter Olympic Games in Sochi in 2014.
The British national team will take part in 22 sport disciplines, including rugby, at the World Summer Universiade Games opening in Kazan this week.
Published 5 July 2013