Rt Hon Lord Philip to chair Mull of Kintyre crash review
Defence Secretary Dr Liam Fox announced today that the Rt Hon Lord Philip will chair the independent review of the evidence into the Mull of Kintyre Chinook crash.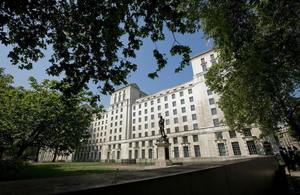 The review will examine all available evidence relating to the findings of the Board of Inquiry into the fatal accident, which happened on 2 June 1994.
Lord Philip is a distinguished lawyer who will approach this task from a fresh perspective, whilst drawing on his vast experience.
Dr Fox said:
In opposition we committed to an independent review into this tragic incident, which took the lives of 29 people.
Today, I am pleased to fulfil that commitment and announce that Lord Philip will lead the independent review. Lord Philip has a wealth of judicial experience and I am delighted he has agreed to take on this important task.
Lord Philip said:
My fellow Privy Counsellors and I are honoured to undertake this sensitive but important review of the tragic crash on the Mull of Kintyre in June 1994.
We will review all the evidence rigorously and expeditiously and while I intend to base this review on the papers, I am today writing to the families and interested parties informing them of the review and inviting them to outline their concerns and issues so that the review committee can directly address them.
Lord Philip will work closely with a panel of three other Privy Counsellors. They are:
The Rt Hon Malcolm Bruce MP, a former Liberal Democrat party spokesman on Scotland. He was accepted into the Privy Council in 2006 and is currently the President of the Scottish Liberal Democrats.
The Rt Hon the Lord Forsyth of Drumlean, a former Conservative Secretary of State for Scotland who was given a Life Peerage in 1999.
The Rt Hon the Baroness Liddell of Coatdyke, a Labour Peer and a former British High Commissioner to Australia until 2009. She is also a former Secretary of State for Scotland and was made a Life Peer in May 2010.
Published 16 September 2010