Press release
RPA opens new Rural Payments service to all BPS customers
More than 22,500 farm businesses have registered for new online Rural Payments service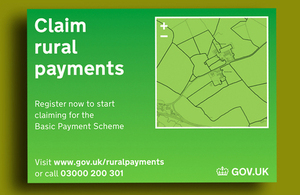 More than a quarter of eligible farm businesses in England have registered on the new online Rural Payments service for Basic Payment Scheme (BPS) 2015, according to the Rural Payments Agency, which has also formally declared that registration is now open to all farmers and landowners who wish to claim rural payments.
Up until now, the service has been introduced gradually to customers, starting with small groups at a time, making sure that what customers can do on the service and how they register for it, is working well. January saw a significant ramping up of the numbers being invited to get online leading to today's announcement urging all customers to get online now.
The latest figures show that by Monday (2 February) nearly 21,000 customers and agents had registered representing more than 22,500 farm businesses. The overwhelming majority of these had confirmed their business details and issued the correct permissions for others to act on their behalf.
RPA Design Director Emma Appleby said:
The new Rural Payments online service is the only way to claim your money this year so you need to make sure you register. This applies to everyone who wants to make a claim, even those previously registered for the former Single Payment Scheme (SPS), and we urge you to do it as soon as possible to give yourself time to complete it.

The new digital Rural Payments service will make managing a claim simple and effective without the need to fill in paper forms. Farmers and landowners will be able to manage their land using interactive maps, give others permission to act on their behalf and apply for CAP schemes. There is a lot to do this year, but Rural Payments will mean that making a claim in subsequent years is really straight forward.

We know that some people will need help applying online and we have put in place a range of ways to help them including by telephone, through local farming and specialist IT organisations and, for those who need it, 50 support centres throughout the country. To find out what options may be open to you, visit www.gov.uk/ruralpayments or call 03000 200 301 (the rural payments helpline) to find out more.
Published 3 February 2015