News story
Royals visit set of highly acclaimed Game of Thrones
On their second engagment of the day, Her Majesty The Queen and His Royal Highness The Duke of Edinburgh visited the set of the highly acclaimed Game of Thrones TV series in Belfast's Titanic Quarter.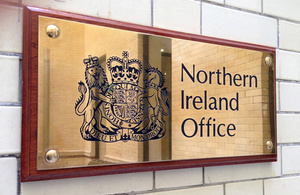 On arrival, the Royal Couple were greeted by David Benioff and Dan Weiss, Executive Producers and writers of Game of Thrones. Entering the 'Red Keep Courtyard, Her Majesty and HRH The Duke of Edinburgh were given a short overview of the series and the positive impact it has had on Northern Ireland, not only in terms of employment but also as a leader in the creative arts field.
Since 2009 the hugely successful Game of Thrones television series has been filmed throughout Northern Ireland and, in particular, at the Paint Hall studio in the Titanic Quarter. In the five years since Game of Thrones began filming in the region it has become the biggest TV production in Europe and has provided a significant boost to the Northern Irish economy. The first four seasons brought a direct economic benefit of £82m. According to the Northern Ireland Assembly, it has created the equivalent of more than 900 full-time and 5,700 part-time jobs in a region of fewer than 2 million people.
The Royal party took time to meet some of the key departments in the production of the series – Weapons/Armoury Unit, Props Department and Costume Designer. Weapons Master, Tommy Dunne, invited the Royal Couple to view some of the weapons used in the series, as well as outlining how they were designed and manufactured. Prop Makers, Gavin Jones and Don Sturgeon also showed them a range of props, which have not only been designed in the Belfast studios, but also handmade by a small team of local people, showing once again how these new creative industries have many spin-off opportunities for job creation. Finally, Her Majesty and the Duke of Edinburgh met Michele Clapton and her team who proudly showed off the wonderful display of handmade costumes for which the show is famous.
Moving through the Throne Room, the Royal Party met and chatted with 6 cast members from both the current and past episodes of the hit series. They included Lena Heady (Queen Cersei Lannister), Kit Harington (Jon Snow), Conleth Hill (Lord Varys), Rose Leslie (Ygritte), 17 year old Maisie Williams (Arya Stark) and 18 year old Sophie Turner (Sansa Stark).
In the setting of the magnificent Throne Room, Tom Martin, Construction Manager, provided an overview of the Throne Room set, before presenting a number of crew members who were involved in the construction of a large number of sets for the series.
Before departing, Dan Weiss presented Her Majesty and The Duke of Edinburgh with a gift of a miniature of the infamous Iron Throne, a synonymous Game of Thrones symbol well known to the millions around the world who are fans of the series.
Published 24 June 2014