Royal Welsh soldiers return home from Afghanistan
Soldiers from 2nd Battalion The Royal Welsh returned to their base in Tidworth, Wiltshire, yesterday after a successful six-month deployment to Afghanistan.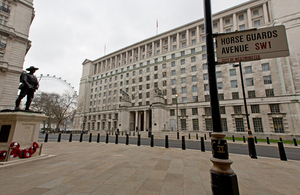 99 members of B (Rorke's Drift) Company were welcomed back by their families, friends and colleagues after playing a key front line role as the Armoured Infantry Battle Group in Helmand province using Warrior infantry fighting vehicles.
Altogether, 150 soldiers from B Company deployed to Afghanistan in July 2010 and have been assisting with the security and stabilisation programme in Helmand and Kandahar provinces.
Initially based in Helmand they were deployed in a ground-holding role near the provincial capital of Lashkar Gah. Around Christmas time they were retasked and provided security for the rebuilding of Highway 1 in their Warrior armoured vehicles.
Highway 1 links the key economic and political hubs of both Helmand and Kandahar and in recent months has been significantly repaired and rejuvenated. B Company played an integral part in providing the security for this joint Afghan, UK and US project.
The return of B Company also marks the end of two years of operations in Afghanistan for 2nd Battalion The Royal Welsh. The first deployment was in February 2009.
Over the past 24 months the battalion has suffered three fatalities and a number of personnel have been wounded. Private Richard Hunt was killed in August 2009, Private James Prosser in September 2009, and Lance Corporal Christopher Harkett in March 2009, all as a result of being caught in explosions.
A welcome home parade for B (Rorke's Drift) Company will be held in Cardiff on 30 April 2011.
Published 25 February 2011