Royal Welsh company extends activity into Kandahar Province
Defence Secretary Dr Liam Fox announced the extension of the company's activity into Kandahar province yesterday following a request by the …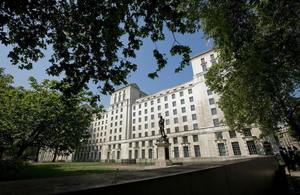 Defence Secretary Dr Liam Fox announced the extension of the company's activity into Kandahar province yesterday following a request by the International Security Assistance Force (ISAF) Joint Command in Afghanistan.
The highway is an important route in southern Afghanistan which links the key economic and political hubs of both Helmand and Kandahar.
The company from 2 R WELSH and their Afghan partners have been providing security along a stretch of the Highway that runs through Helmand province. They will now extend this activity on a small part of the highway in western Kandahar province which neighbours the UK's current area of responsibility in central Helmand.
Dr Fox said:
The objective of the task is to secure 'Freedom of Movement' along a key part of Highway One, between central Helmand and Kandahar. This will enable ISAF and the Afghan National Security Forces to increase security in both Helmand and Kandahar provinces.

It will further benefit security, stability and economic development in Helmand by reducing the influence of the insurgency on the free-flow of traffic on Highway One. Improving security on the route will ensure that it is freely usable by the Afghan authorities, commercial users and the local population.
Taking on this task enables the UK, as part of ISAF, to keep the pressure on the insurgency, causing both significant disruption to their activities against coalition forces and destroying a significant source of income in preventing the taxation of users of Highway One.
The 2 R WELSH company will remain operating in Kandahar province for up a specific time limited period of up to six months.
US troops who are responsible for security in Kandahar province are heavily involved in operational activity under the banner of Hamkari in Kandahar province.
The Commander of US troops there asked ISAF for reinforcements for the Highway One task so as not to slow or jeopardise activity under Hamkari.
As the area that requires additional support neighbours an area controlled by UK troops in central Helmand, it makes sense for UK troops to be asked to take part in this task, especially as there will be benefits for central Helmand, as well as Kandahar.
Published 21 December 2010