Royal wedding sparks street party fever for the Big Lunch
Communities Secretary Eric Pickles has today revealed new figures showing that the Royal Wedding has sparked 'street party fever' with a 280…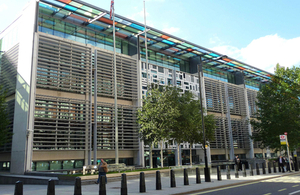 Communities Secretary Eric Pickles has today revealed new figures showing that the Royal Wedding has sparked 'street party fever' with a 280 per cent surge in registrations for the national Big Lunch a week today (5th June).
The occasion of the Royal Wedding - watched by millions across the globe - brought people together to celebrate a shared sense of Britishness and community spirit. Thousands of people came together to celebrate the Royal Wedding with parties in streets, gardens, parks and community centres. This was supported by Government action to sweep away red tape and bureaucracy, resulting in over 5,500 people submitting road closure requests.
Mr Pickles is reminding councils that national events like the Royal Wedding, Big Lunch and next year's Diamond Jubilee bring communities together, and is urging them not to spoil the fun with unnecessary bureaucracy. He wants communities to break out the bunting, not get tied up in red tape.
Applications for Big Lunch street parties have doubled since the royal wedding, with the North East region receiving the highest number of registrations since April - a surge of 281 per cent. Londoners are keeping the party going with nearly 700 street parties registered with the Big Lunch website - an increase of 150 per cent since the Royal Wedding. Other party hot spots include the Manchester area (225 registered street parties), Birmingham (201 registrations) and Bristol (146 registrations).
Communities Secretary Eric Pickles, said:
What the Royal Wedding showed is that community spirit is not a thing of the past. Street party fever is thriving and the Big Lunch is another chance for people to dust off their bunting, get together with friends and neighbours and grow, bake, buy and eat together.

Big Lunch is a great idea and a great opportunity for councils to help residents forge strong community links. I want to remind them not to spoil the fun with red tape and bureaucracy. People shouldn't have to fight for their right to street party.
Jason Pollock, The Big Lunch Campaign Director said:
Our research shows that after taking part in a neighbourhood event for The Big Lunch last year, 79 per cent of people said that they felt better about where they lived and 95 per cent still feel closer to their neighbours a year later.

What's more, we know that they keep in touch, lend each other a hand and plan future events together. The royal wedding appears to have given The Big Lunch a huge boost. From Plymouth to Aberdeen, Londonderry to Norwich, we've already got more events registered this year compared to this time in 2010 and we still have over a month to go.
The Government is reminding councils that the process for organising a street party needn't be bureaucratic and is urging councils not to spoil the fun with pointless red tape.
Measures the government has taken include reminding councils that:
road closure charges can be waived - there is no requirement at all for closures on small roads and councils can provide advice on traffic management

public liability insurance is not always necessary - Prime Minister David Cameron recently announced it is no longer a requirement for small street parties to hold insurance. Councils can advise further on individual circumstances.
With support and advice from Streets Alive many councils and communities have been able to bust these myths and take a common sense approach.
Notes to editors
Big Lunch registrations are shown on the campaign website: http://www.thebiglunch.com/map/index.php (external link)
Registrations to the Big Lunch website since April are up by:
Twitter
Keep up to date with the Department by following us on Twitter (external link).
Media enquiries
Visit our newsroom contacts page for media enquiry contact details.
Published 29 May 2011