Royal Wedding details announced
As Clarence House announces the Royal Wedding will be livestreamed on YouTube, our embassies around the world are preparing to celebrate the day.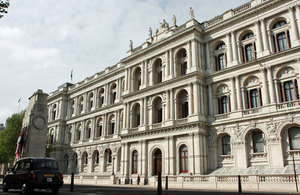 His Royal Highness Prince William of Wales and Miss Catherine Middleton will be married on 29 April in Westminster Abbey in London. The Royal Couple hope that their wedding day will be enjoyable for as many people as possible - not only in the UK, but also in the Commonwealth Realms and across the rest of the world.
Many of our embassies are preparing to celebrate the Royal Wedding through a wide range of events - from receptions and live screenings to web chats and competitions. For example, Amman is holding a competition for couples getting married this year, while Vilnius is hosting the event for participants of the International Award for Young People - Duke of Edinburgh's Award. You can see what our embassies, high commissions and consulates are doing by visiting their websites and following them on social media - find out more here.
Today, Clarence House announced that broadcast footage of the Royal Wedding will be livestreamed on The Royal Channel on YouTube, accompanied by a live multimedia blog put together by St. James's Palace. You can also find out more about the Wedding through the Official Royal Wedding website and on Twitter, YouTube and Flickr, as well as on The British Monarchy's Facebook page. The Facebook page features an 'event' of which anyone can be part. A 'Stories' app will also launch approximately a week before the Wedding, asking people to describe how they are preparing for the event and then, on the day itself, how they are celebrating. The FCO is working closely with Clarence House to support these initiatives.
The Wedding will blend both traditional and modern British values. It also marks the start of an exciting period, including the Diamond Jubilee and the Olympics, when the world's attention will be on Britain. During this time, we're confident that Britain will show why it is one of the most exciting places to live, visit and work in the world.
In our See Britain short film below, prominent British and British-based experts in their field explain how Britain's openness, connectivity, dynamism and creativity have helped them succeed. Contributors include Mustaq Ahmed (cricketer), Raymond Blanc (chef), Kwame Kwei-Armah (actor and playwright) and Zeinab Badawi (news reporter and presenter). Watch the film below.
Published 27 April 2011