Royal Visit sees strong reaffirmation of UK-UAE ties
UAE Minister of Foreign Affairs and British Foreign Secretary signed a formal declaration reaffirming the 1971 UK-UAE Friendship Treaty.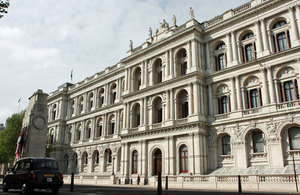 UAE Minister of Foreign Affairs His Highness Sheikh Abdullah bin Zayed Al Nahyan and British Foreign Secretary, The Rt Hon William Hague MP signed a formal declaration in the presence of Her Majesty The Queen and Their Royal Highnesses The Duke of Edinburgh and The Duke of York on Thursday, reaffirming the 1971 UK-UAE Friendship Treaty and setting out ambitions for future cooperation.
The two Ministers also signed agreements on civil nuclear cooperation and consular and visa issues.
These agreements reflect further strengthening of the long-standing cooperation between the UK and the UAE and follow an increase in high level engagements. In October 2010, Abu Dhabi Crown Prince His Highness Sheikh Mohamed bin Zayed Al Nahyan held talks with UK Prime Minister David Cameron in London. Mr Cameron visited the UAE in June on one of his first overseas visits after taking office.
The signings took place at a "partnership celebration", hosted by British Ambassador Dominic Jermey OBE.
The celebrations included the recital of 'partnership poems' in English and Arabic by the winners of a British Council-Emirates Writers Union poetry competition, a performance of a specially commissioned dance created by international artist Patricia Millns, and the playing of a new fanfare, 'The Falcon and the Lion' by composer Joanna Marsh. The event was supported musically by the British School Al Khubairat orchestra.
During the event, The Queen, The Duke of Edinburgh and The Duke of York met representatives of British and Emirati partnerships across a wide range of sectors, including defence and security, energy and business.
Published 25 November 2010