Press release
Royal Vauxhall Tavern receives listed status
Iconic and world-famous LGB&T venue preserved for future generations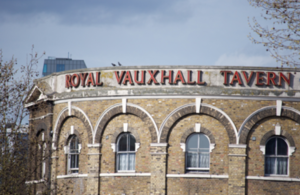 The Royal Vauxhall Tavern (RVT) has been listed Grade II by Heritage Minister, Tracey Crouch on the advice of Historic England.
The first listing of its kind for a Lesbian, Gay, Bisexual & Transgender (LGB&T) venue, the iconic London location has an international reputation as arguably one of the most inclusive LGB&T venues in England, built on a tradition of hosting alternative, transgender and drag performances.
Standing on the historic site of Vauxhall Pleasure Gardens in Lambeth, the Tavern was originally built between 1860-2 and boasts an eye catching mid Victorian curved façade. The landmark location is not only of architectural significance, but has also become an enduring symbol of the confidence of the gay community in London.
Speaking of the listing, Heritage Minister, Tracey Crouch said: "I am thrilled to be able to list the Royal Vauxhall Tavern as Grade II - the iconic cultural hub in the heart of London is of huge significance to the LGB&T community. Not only of architectural interest, the venue has a longstanding historic role as a symbol of tolerance and alternative entertainment.
"Residing in Lambeth since 1860, the landmark venue has been the springboard for so many of our loved UK entertainers. I am delighted that the listing will preserve the history of this venue for future generations to enjoy - I hope that it continues to be filled with laughter and joy."
Director of Listing at Historic England, Roger Bowdler, said:
"The Royal Vauxhall Tavern is an enduring and important venue for the LGB&T community. Built on the site of the Vauxhall Pleasure Gardens, it carries on the tradition of alternative and bohemian entertainment which is bound up in this part of London's history and identity."
The heart of the LGB&T community in London, the Tavern has long been supported by leading UK entertainers including Graham Norton, Sir Ian McKellen and Paul O'Grady - who regularly performed as Lily Savage at the venue.
Amy Lamé is the co founder and host of long-running RVT night Duckie and chair of RVT Future, the community group that coordinated the listing application. She added:
"The listing is a fantastic milestone for our community and a victory against the odds for our beloved pub. We look forward to continuing our work to ensure the RVT remains a vibrant space of LGBTQ community and culture for generations to come."
The listing coincides with Historic England's Pride of Place research project, looking into the history of LGB&T venues across the UK.
Find out more about the listing in our Immersive.
Published 9 September 2015