Royal town receives funds to strengthen ties with Armed Forces
The MOD's Community Covenant Grant Scheme, launched in August 2011, aims to strengthen the ties between the Armed Forces and the general public…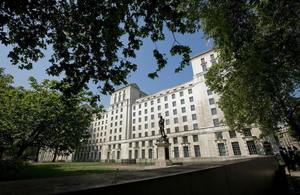 The MOD's Community Covenant Grant Scheme, launched in August 2011, aims to strengthen the ties between the Armed Forces and the general public. Groups can apply to the grant scheme for funding for local projects that will benefit both the Armed Forces community and their local community.
Up to £30m over four financial years has been set aside to help fund projects that promote greater understanding between the military and civilian populations. To date, 38 applications to the Community Covenant Grant Scheme have been submitted for consideration.
The announcement of the funding for Wootton Bassett Community Covenant Grant Scheme came as last week the town formally received 'Letters Patent' from Her Royal Highness The Princess Royal, on behalf of Her Majesty The Queen, to become Royal Wootton Bassett. See Related News.
The title was conferred on the town in recognition of the dedication that Wootton Bassett's inhabitants have shown in honouring members of the Armed Forces killed on operations in recent years.
The Minister for Defence Personnel, Welfare and Veterans, Andrew Robathan, said:
The people of Wootton Bassett lined the streets in their thousands to show support and respect for our brave servicemen and women who tragically lost their lives in defence of our country.

It is this community spirit and pride in the Armed Forces that acts as a shining example to the rest of the nation and embodies the link between the Armed Forces and the community. I am delighted that Wootton Bassett is the rightly-deserved first recipient of the Community Covenant Grant Scheme.
The Mayor of Royal Wootton Bassett, Councillor Paul Heaphy, added:
We would like to thank the MOD Community Covenant Grant Scheme for this funding award. Our Armed Forces are deserving of our support and respect and all those who have lined Wootton Bassett's High Street at the repatriations of fallen Service personnel demonstrate the high regard in which they are held.
The Community Grant Scheme will consider applications for funding between £100 and £250,000, to be spent on projects which promote closer ties with, or a greater understanding of, the military in the local community. Examples could be:
a public exhibition showing recent activity of the local Armed Forces unit, such as a tour in Afghanistan.
one-off activities such as an activity camp involving the Armed Forces and young people.
a community outreach project that brings together veterans with their non-Service equivalents to highlight what support is available to them in their local community.
The scheme follows the publication in May this year of the Armed Forces Covenant which, amongst other things, aims to improve the support available for serving personnel, their families and veterans.
Community Covenants have also been established in Oxfordshire, the Vale of Glamorgan, Hampshire, North Yorkshire, Doncaster, Wiltshire, Cornwall, Kent, Hull, Plymouth, and Colchester.
Application forms and further information on grant criteria can be downloaded from the MOD Covenant page at Related Links.
Published 28 October 2011