Royal Signals help rebuild schools in Kabul
After three decades of war and violence, the quality of life for inhabitants in parts of Kabul is slowly improving thanks in part to the efforts of a small group of British soldiers based in the capital. Report by Captain Matthew Johns.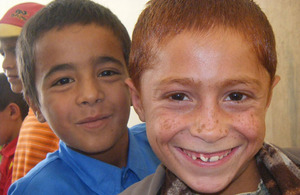 Over the last year soldiers from the Royal Signals have been working and raising money for an initiative called Project Bland. The project was set up in memory of Signaller Wayne Bland who was killed when a suicide bomber attacked his vehicle in Kabul over two years ago.
At first the focus of the project was to improve a small school in Kujah Rawesh near Camp Souter, home of the main British presence in Kabul. The school was rebuilt and extended to allow more children to attend, and amenities and resources were provided, including the digging of a well and the supply of books, bags and pencils.
During the rebuilding, visits to the school had a poignant effect on all the soldiers involved. The school scene was not that dissimilar to that which they had all experienced - energetic, noisy and inherently happy children supervised by conscientious, hardworking but tired teachers.
Discipline was definitely in place, but there was still room for playfulness. The difference being that these children once had nothing; lessons were taught to large classes, many in corridors, and there were no books - just a blackboard and a minute quantity of chalk in each room. The walls were bare and the building old and broken. The amenities for almost 200 children consisted of a single portable toilet and no running water. Most soldiers left the school feeling very overprivileged and with a desire to do more.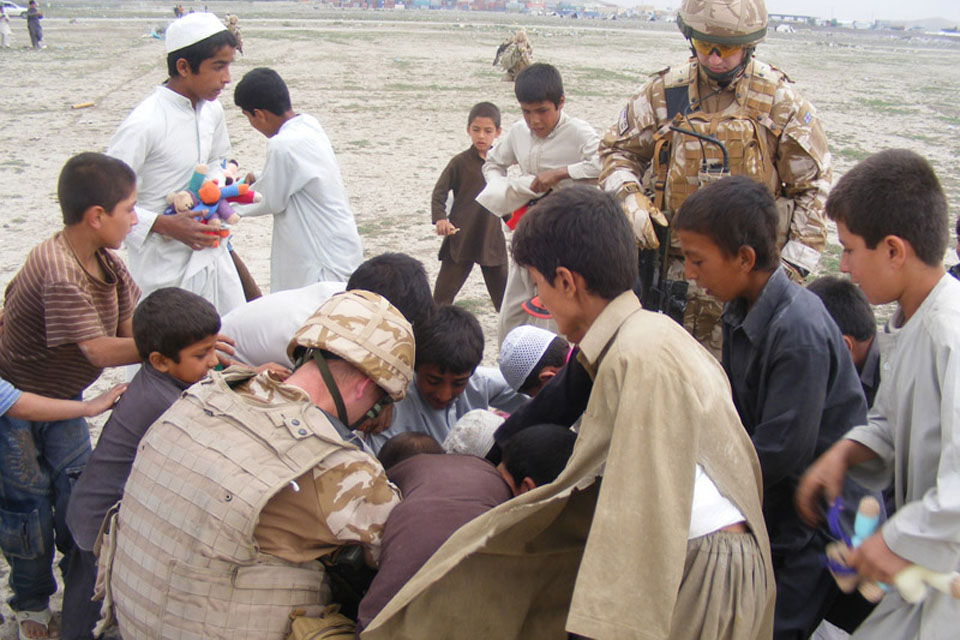 Since work at the school finished, Project Bland has expanded to cover another school, an extension to the community mosque, and the digging of several wells throughout the neighbourhood, as well as organising regular aid drops of basic essentials such as flour, rice and oil.
Originally started by 16 Signal Regiment, Signaller Bland's former unit, the project has now been handed over to York-based 2 Signal Regiment.
Staff Sergeant John Stephenson of 2 Signal Regiment, who is currently the project co-ordinator, said:
We have picked up where the last regiment left off, and will encourage the unit that replaces us to continue with the project too.

Hopefully Project Bland will keep running as long as the Royal Signals are in Kabul. It makes a huge difference to the lives of the Afghans living around us and has allowed us to forge strong relationships with the key community figures.
A recent volleyball match between some of the leading community figures and the soldiers is testament to how relationships are being created and strengthened by the project.
Another positive effect of the project, as well as improving the lives of those in Kujah Rawesh, is that the soldiers have been accepted, or are at least tolerated, by locals tired of years of men with weapons, whatever their cause or nationality, walking down their streets.
They can see that ISAF troops are bringing benefits and a level of stability to the area that has not been seen in a long time. This acceptance affords a level of security to the soldiers that was not enjoyed before, and a mutual interest in ensuring that the Taliban can never get a foothold in this area again.
The project is funded partially by the military and partially through sponsorship and charitable donations by the soldiers themselves and their families and friends. Recent fundraising events have included a marathon run on base in Kabul and a charity auction.
Kabul and the small community of Kujah Rawesh have a long way to go before they have the level of security and economic stability that everyone is desperate for, but inroads are being made and initiatives such as Project Bland are a key part of this.
Published 30 November 2010