News story
Royal seal of approval for new Jubilee Wood at MOD Police Headquarters
MOD Wethersfield is taking its place in history by planting one of 60 flagship 'Diamond Woods' as part of an ambitious charity tree-planting challenge.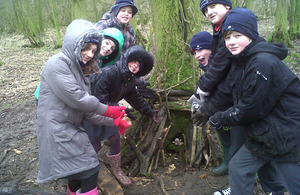 The Woodland Trust, the UK's leading woodland conservation charity, has teamed up with the Defence Infrastructure Organisation (DIO) to plant a new 80-hectare woodland in Essex.
The site, at Wethersfield, near Braintree, is the headquarters and main training centre for the Ministry of Defence Police and Guarding Agency.
The tree-planting will be part of the Trust's Jubilee Woods project which aims to plant a massive 6 million trees to mark Her Majesty The Queen's Diamond Jubilee.
The project, which has Her Royal Highness The Princess Royal as patron and the Queen's support, will improve our natural environment by creating homes for wildlife and beautiful new woods for generations to enjoy - a lasting legacy for this historic occasion. Sixty exclusive 'Diamond Woods', including Wethersfield, are being created, each to mark a year of the Queen's reign.
The first trees were planted by schoolchildren in the week commencing 4 February, and on Saturday 9 February there was a community tree-planting day.
Ros Gourgey, Sustainability Manager at Wethersfield, said:
We are very proud that our Essex headquarters has been chosen to be a Diamond Wood. This woodland will grow into a valuable wildlife area, enhancing biodiversity while becoming a useful training and amenity resource for our, and other MOD, personnel.
It is not just about marking the Queen's Diamond Jubilee; planting woods will help create valuable habitats for native species. The UK is one of the least wooded countries in Europe with just 13% woodland cover compared to an average of 44%. Essex has just 6.5% woodland cover, compared to an English average of 10%.
Helen Chesshire, Woodland Trust Partnerships Manager, said:
We are absolutely delighted that the DIO has chosen to create a prestigious Diamond Wood to celebrate the Diamond Jubilee. In just 10 years the trees will be taller than the average person and wonderful for wildlife.
With the UK being so deprived of trees compared to the rest of Europe - and our native woods under attack from disease, pests and development - creating, expanding and protecting woods is more important than ever. And of course planting events like this are a great way to engage children and local people with the environment.
DIO Senior Forester Jon Watson said:
Supporting our Armed Forces is DIO's priority and we're delighted to continue our successful partnership with the Woodland Trust in responding to the training needs of defence personnel. This excellent initiative allows us to continue to help improve training facilities, whilst securing significant conservation and environmental benefits at no extra cost to the MOD.
Sainsbury's is the lead corporate sponsor for the Woodland Trust's Jubilee Woods project and, over 15 months, will be supporting it and raising £1.5 million for tree-planting by increasing the number of donations made from products in store.
Sainsbury's will later this year also be giving customers the opportunity to make a 'pledge' in store to plant a tree to mark the Diamond Jubilee and promoting activity through the retailer's Active Kids Scheme to encourage schools to plant trees.
Diamond partners IKEA, the Daily Mail, Biffa Award, the Forestry Commission and the County Durham Environmental Trust have also generously supported the Jubilee Woods project.
Published 13 February 2013